Conway's Tech Village marks 1st anniversary with a waiting list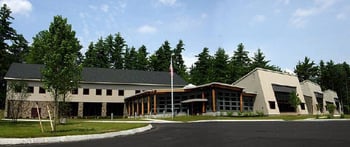 It has been just over a year since the Mount Washington Valley Technology Village opened for business in Conway — and business, as they say, has been booming.
According to Jac Cuddy, executive director of the Mount Washington Valley Economic Council, the goal of the Tech Village was to house in a single place business and education centers as well as an existing area business incubator.
In June 2006, the incubator, which had been open for four years prior to the village's opening, moved to the new facility. Satellite locations of Granite State College, Plymouth State University and the New Hampshire Community Technical College moved to the 81-acre campus in the following months.
Six other businesses also took up offices at the Tech Village.
"We are actually full," said Cuddy about the current slate of tenants. "And we have a waiting list."
He said some 45 people are currently employed at the village's companies.
Animetrics, a developer of advanced facial recognition protocols for the security industry, was one of the first start-ups to be located in the Tech Village, moving there in August 2006.
"We were located in an attic above a café in Jackson," said Paul Schuepp, president and CEO of Animetrics, of the firm's previous home. "Finding good space around the valley for a company like ours was not easy."
Offices at the Tech Village was the answer Animetrics was looking for.
"Before, we had no professional resources, no conference rooms. We were using DSL and we needed a T1 line. There was no reception area. Our old office was not a place we could bring customers," said Schuepp. The Tech Village had all those services, and more.
Animetrics is preparing for another round of growth, adding customer service, sales and marketing staff to its current roster of 10 scientific employees.
"We're getting some commercial traction," Schuepp said. "We're due for a growth spurt."
MWVEC's Cuddy said the Tech Village's current goals are continued growth by adding more local businesses and facilitating other businesses to relocate to the village.
"Our goal is to have around 600 employees in 10 years," Cuddy said.
He also said he hopes to attract developers to the site to build additional facilities to house new and expanding businesses.