Convict opened security doors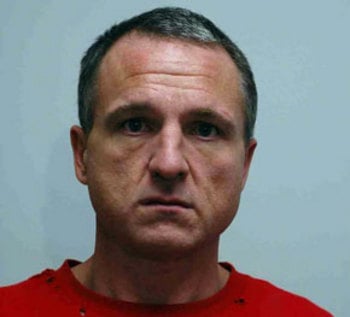 NASHUA – A convict who bailed out of Nashua District Court on Monday was able to yank open locked security doors at the nearby Clocktower apartments, despite being handcuffed and shackled, the property manager stated in a letter to tenants Thursday.
Building security officials called for help and then helped police to track Peter Gibbs, who was captured after jumping into the Nashua River.
Gibbs, 43, of Nashua, is charged with two home invasions in the city earlier this year, and will now face felony assault and escape charges as a result of his escape Monday, Hillsborough County Sheriff James Hardy has said. Sheriffs had yet to file charges as of Friday, however.
Nashua police charged Gibbs with resisting detention, a misdemeanor, after three officers jumped into the river to fish him out. Police had tracked Gibbs to a wooded embankment behind Clocktower.
Gibbs escaped from court still wearing shackles on one leg, having slipped one ankle free. His hands were cuffed in front and shackled to a leather belt around his waist. Still, Gibbs was able to force open one of the main, outer doors at Clocktower apartments.
"The doors approached by Mr. Gibbs were shut and locked," property manager Tia Phillips wrote. "Gibbs, fleeing from court officers, pulled on the entrance doors several times with all his weight and using extreme force caused the wooden doors to be forced open."
Gibbs stands 5 feet, 9 inches tall, and weighs about 170 pounds, according to the description released while he was at-large.
Building management called 911, and also tried to follow Gibbs as he ran through the building, Phillips wrote.
Management later tracked Gibbs' progress through the building using the security video system and was able to show police that he had left the building through a door in the back. Police said they found Gibbs after a Manchester police dog and handler tracked him from that door.
Phillips' letter to tenants reminded residents to keep the main doors locked and not allow strangers into the building.
Sheriff Hardy has said that more details of Gibbs' escape will be divulged once his office prepares charges against Gibbs, but he said an officer was injured when Gibbs assaulted him. Gibbs was on the lam for just more than an hour before being captured.
Gibbs has spent more than half his life behind bars, since being convicted of the armed robbery of a city cab driver when he was 17. He had appeared in court Monday for a probable cause hearing on one of two pending home invasion cases.
That hearing has been rescheduled to Monday, Aug. 18.
Gibbs could spend the rest of his life in prison if convicted in both cases on charges that include robbery, burglary and being an armed career criminal.