Consultant's 1980 report laid the groundwork for Pennichuck development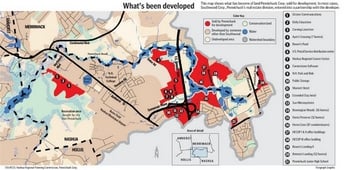 A tattered old document spells out just how Pennichuck Water Works went from a company owning 2,000 acres of watershed buffer land to one that owns about 500.
It has a bulky official name, but it's better known by its nickname: the Sasaki Report.
Sasaki Associates is an engineering firm that was hired by Pennichuck to analyze the company's 2,000 acres of holdings and see which could be developed with the least harm to water quality.
The report was an important part of Pennichuck's preparations to enter the new world of public water supplies created by the federal Safe Drinking Water Acts of 1974, 1977 and 1979.
These required the company, which had been doing little more than filtering out debris and chlorinating water to kill microbes, to build a $7.5 million treatment plant.
To raise that much money, the company decided to take some of the wooded land it owned to protect the water supply and turn it into commercial real estate.
Through 1980, Sasaki Associates took infrared aerial pictures, toured the string of ponds and brooks that forms the heart of Pennichuck Water Works' water supply, analyzed the water, studied details of the under-construction treatment plant and looked at data from the U.S. Geological Survey.
After all its studies, the Sasaki Report came to the conclusion that 1,500 acres, or 75 percent of Pennichuck Water Works land, wouldn't be critical to water supply protection upon completion of the treatment plant and could be put to alternative use.
That's how Southwood Corp., the sister company of Pennichuck Water Works that deals strictly with real estate sale and development, was born. The 1,500 acres were transferred to that company. To date, about 1,000 have been sold for development.
Most of the 500 acres that the Sasaki Report said should be kept undeveloped were "buffer zones" around water supplies, ranging in size from 100 feet around Pennichuck Pond to 300 feet for most of the brook to 500 feet for the main supply pond on the Nashua-Merrimack border.
The final spin-off of lands approved by the state was just what the Sasaki Report said it should be.