Consolidating efforts benefits communities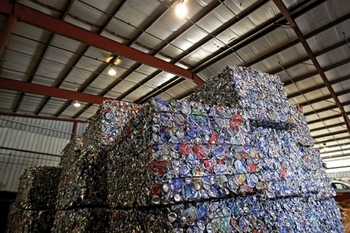 PITTSFIELD – Marilyn Weir, a Northeast Resource Recovery Association employee for more than a year, stared up in front of a mountain of compacted aluminum cans, neatly stacked with labels such as Bud Light and Coke still legible.
Weir said this recyclable statue accounts for 12 towns' worth of aluminum cans, and for the NRRA, the collage of crushed cans is a work of art.
In an effort to consolidate recyclable materials and increase profits, the NRRA has initiated a pilot program that combines loads of recyclable materials from multiples towns, saving space and money.
"Typically, you get more money for full loads of materials," Weir said, "but it could take some towns a year to save up that material. This helps towns with their storage and maximizes their revenue, and incoming revenue can offset expenses."
Although the pilot program started in March, when prices on some material were sky high, Weir said the program is even more relevant and useful as prices plummet in conjunction with the current economic crisis.
"We're trying to come up with different options for our members to maximize revenue and reduce costs," Weir said.
Adam Clark, an NRAA employee with an environmental economics degree from the University of New Hampshire, said combining recyclable materials among towns can pay off.
"You're getting a higher market price, and that really adds up," he said. "And you're increasing your value per load considerably."
In fact, Weir said the value of a full load of aluminum cans is almost 20 percent more than normal market value.
A crucial part of the program's initial success is the BCEP Solid Waste District recycling center in Pittsfield. The facility, which services Barnstead, Chichester, Epsom and Pittsfield, has the storage room and equipment needed for the task, said District Administrator Earl Weir, Marilyn's husband. Specifically, the BCEP's horizontal baler maximizes efficiency.
"The horizontal baler increases the weight in each bale," said Earl Weir, the district administrator since 1991. "And the more weight you get on a truck, the cheaper it is."
Earl Weir said 26 cities and towns are participating in the program, which started in March. The NRRA can arrange to have materials picked up or materials can be delivered to the BCEP Solid Waste District.
And while there is no definite timeline on when this program will lose the "pilot" title, Marilyn Weir is optimistic that the initiative will be a success.
"We're in the process of working the bugs out as best we can," she said. "I haven't found a downfall on it yet."
Marilyn Weir added that the goal is to eventually establish four or five waste centers that are strategically placed across the state to reduce transportation costs. She also hopes that the NRAA can expand the program across New England.
For more information on the Northeast Resource Recovery Association, visit www.nrra.net or call 736-4401.