Condominium fire kills three animals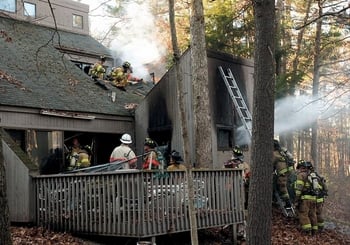 NASHUA – A fire killed three animals and damaged a Nashua condominium but caused no further injuries Thursday afternoon.
Fire crews were called to 28 Coburn Woods, a condo development on Coburn Avenue, around 2:30 p.m. when a neighbor spotted smoke. Crews arrived minutes later and found intense flames on the first floor, according to Nashua Fire Deputy Chief Dan Cronin.
The fire was deemed under control around 2:50 p.m., Cronin said, but two cats and a dog were killed. The fire was contained to the first floor, he said, but caused "extensive damage" there, particularly at the rear of the unit, and has been deemed uninhabitable, he said.
The Nashua fire marshal is on the scene investigating but hasn't determined a cause, Cronin said.
Greg Mewhinney, of 32 Coburn Woods, was using a leaf blower in the parking area in the middle of several condos when he spotted the smoke.
He tried to get in the condo to rescue the animals but was unable because of the fire, he said. He instead ran back to his condo and called 911.Christina Colangelo owns 28 Coburn Woods, according to Nashua assessment records. It's valued at $187,000. Colangelo had been notified and was on her way to the scene, Cronin said.