Concord Outlook: Building futures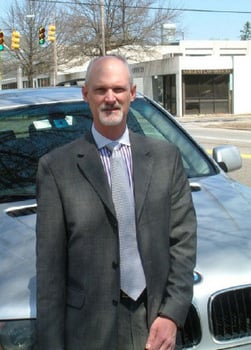 Stephen Heavener, executive director of the Capital Region Development Council, is a kind of modern-day circuit rider, promoting local economic development.
On any given week, his travels may take him from Pittsfield to Plymouth to New London and down to Merrimack. The Hopkinton resident has been traveling through much of southern and central New Hampshire over the past six months, offering the services of his nonprofit agency to small and medium-sized communities that may be looking for economic development but don't have the time and the manpower to pursue it.
"Most of the smaller towns in New Hampshire don't have a professional development staff," said Heavener. "So most have economic development committees made up of business people and talented bankers, real estate people … But it's a part-time committee. They meet once or twice a month and it's really hard for a committee like that to really proactively manage economic development programs."
Promoting economic development in even a small community can be marvelously complicated, he said.
"Economic development is a lot of things," Heavener said. "It's making sure your town has the correct site, making sure you have water and sewer, making sure you have assets positioned. It's working with the real estate community, working with the lending community and just working with all the collaborators and the stakeholders in trying to recruit good-paying jobs that will add to the tax base of your community."
So Heavener offers his services as an economic development consultant for about 15 to 20 hours a month to help a town evaluate potential sites and market properties to developers. Depending on the specifics of the contract, the fee is generally in the range of $1,500 to $2,000 a month.
"We can work with developers," Heavener said, "or we can be (the town's) eyes and ears on the ground so that when a developer or a company comes to town, they can call us in and we can spend the day with the company. With a volunteer committee, it's hard to do that."
'Bang for their buck'
And many communities that would like to have more commercial development just don't have enough activity to justify the cost of a full-time economic development director.
"Some of the smaller towns might not have enough stuff and enough deals going on to really support a full-time person," Heavener said. "Maybe 10 or 20 hours a month is all they need and they can just draw on us when they need us. So they control their cost and they get a bang for their buck."
As a U.S. Small Business Administration-approved lender and through loans from other agencies, including the state's Community Development Finance Authority, the 54-year-old Concord-based CRDC has grown to become a statewide economic development organization. The agency also has been a developer of office parks and commercial buildings in some New Hampshire communities. In partnership with Coastal Enterprises Inc. of Portland, Maine, CRDC also promotes New Market Tax Credits, offering federal income tax credits of 39 percent over a seven-year period for investments into qualified projects in targeted areas.
But it is primarily on the Community Economic Development Assistance Program, or CEDAP, that Heavener is spending his time and travel these days.
A New Jersey native, he earned his master's degree in public policy from Rutgers University by attending classes at night while working days for engineers and surveyors doing construction management and design. He began doing community development housing rehabs for low- and moderate-income families before branching out into economic development. He worked in two New Jersey towns in the early 1980s before spending four years working on economic development for communities in Vermont.
Coming to New Hampshire the first time, he worked for the Keene (later Monadnock) Economic Development Corp. before moving on to similar work in Lewiston, Maine, northern Virginia and Wyoming.
Since returning to New Hampshire last year, he has been learning about the towns he visits as well as the development interests and opportunities in the area.
"My first challenge is to learn what the goals of a particular town are, because I can only market what they want me to market." Knowledge of a town's vision for its future is essential to his work, he said.
Balancing act
"Once I know what they're looking for, I can help them structure a plan of the type of companies or the type of developers we want to contact. So it's a balance of knowing what the town's needs and expectations are and then going out to a particular developer and saying, 'Here's an ideal site. Here's a 20-acre site, the water and sewer is in place, the town has a fairly streamlined permitting process and they're interested in your type of business. Would you be interested in looking at this site?'"
A population that is satisfied with the community and its tax rate the way they are is probably not looking to invest in economic development, he said. But the differences in attitudes among towns are generally more subtle than a choice between "pro-growth" and "no-growth."
"Most towns want commercial and industrial development, but they want it in an area that they've designated, and they want it at a level that doesn't disrupt or change the basic fabric of the community," said Heavener. "So therein lies the challenge of balancing the consensus of what the town wants and what the market will support."
Since arriving at CRDC last November, Heavener has had numerous contacts with officials in about 30 New Hampshire communities. So far, he has a contract to perform consulting work for Pittsfield, is putting the finishing touches on a contract with the town of Bow and has ongoing discussions with two other towns.
With one economic development associate on the agency's staff of six full-time employees, he neither expects nor could handle a contract at every stop.
"If all 30 wanted me, we'd be in big trouble," he said.