Community says man lived for helping others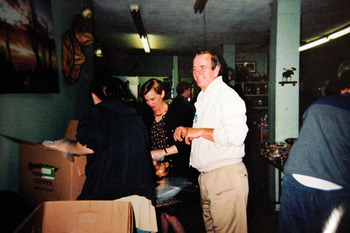 NASHUA – A teenager sentenced to community service called Doug Aldrich a role model who helped him turn his life around.
A middle-age man said Aldrich set an example of giving that he now follows in his own church.
And a young woman who has had to lean on the charity of the kitchen since she was 3 years old said Aldrich was a friend whose hugs brightened her day.
The people who serve and consume meals at the Nashua Soup Kitchen & Shelter are mourning the death of Aldrich, the kitchen manager who died recently at age 61 of cancer.
Aldrich made an impression on the people who made up what he came to call his "second family" during his 11 years managing the Chestnut Street kitchen.
"Doug had a very great knack for people. He was a people person. He could defuse situations," said Dot Marcek, who has volunteered at the soup kitchen for 20 years.
Marcek said Aldrich was "very kind and a great family man."
Aldrich and Mirtha Elizabeth Espinoza had been married for 38 years, living most of that time in Lowell, Mass., where they raised two daughters.
"People who were under the weather, he could calm them down. People who were hurting, he could make them feel better," Marcek said.
"We'll all miss him greatly."
Even though Aldrich passed away in late October, people this week were coming in crying because they had just found out, said Eileen Brady, a social worker at the soup kitchen. Many people knew Aldrich was sick, though he stayed active throughout most of the time he was battling his illness, she said.
"We have so many people doing community service here, you're a role model for teenagers," Brady said.
Aldrich was particularly adept at setting examples for troubled teens.
Brady told of a young man who called to offer condolences after hearing of Aldrich's death. The man said he had some troubled years, and while doing community service at the soup kitchen, Aldrich helped him turn his life around.
Aldrich could talk to anyone, from homeless people suffering from substance abuse to politicians; from young, troubled volunteers to senior citizens, Brady said.
"It's a real skill," she said.
Rossana Landau has worked as the soup kitchen's Hispanic advocate for 10 months. From her first day on the job, Aldrich helped her feel comfortable, she said.
"He was the first person I met when I began working here. He welcomed me and offered a cup of coffee," Landau said.
Aldrich would tell new staff and volunteers how grateful he felt to work there, she said.
Rick Rau began working as a volunteer and now is a board member at the soup kitchen. A real estate agent, Rau knew Aldrich as a client and as a friend.
"In short, he was probably one of the most quality people I had ever met in my life," Rau said.
In his job at the soup kitchen, Aldrich "had to deal with an extreme diversity" of people, Rau said.
"He had an uncanny way of being firm and gentle at the same time," Rau said.
He called Aldrich a true gentleman.
Ray Bernard, 60, was living in a shelter when he met Aldrich, who interviewed and hired him at the soup kitchen, where Bernard now has worked since May 2007.
Bernard is paid through the National Able Senior Community Service Employment Program (SCSEP), which helps provide jobs to older workers.
"I was going through really hard times. Doug gave me a chance," Bernard said.
Bernard said he's leaving Nashua in a few weeks to return to his native South Carolina, where he has family members.
"One thing I learned from Doug – family's first," Bernard said. "I learned so much from him. I got my self-esteem back."
He shared his time between his second family at the soup kitchen and his family at home.
"My dad was an amazing guy. There's no one on this Earth like him," daughter Linda DosSantos said.
A native of Canton, Mass., and Navy veteran, Aldrich went to the soup kitchen as a "temporary job" after being laid off from Wang Labs in Lowell, DosSantos said.
"He just fell in love with it," she said.
"He was a very simple, nonmaterialistic man. Family was everything to him. The soup kitchen became his second family," DosSantos said.
Aldrich would never stand for anyone calling the people who ate at the kitchen "the poor," DosSantos said. To her father, they were clients, she said.
Aldrich taught his children and grandchildren that everyone was just one wrong decision from ending up in their shoes, she said.
"I don't think you could ask for a better person," said one of the clients, James Duff, 24.
"He'd do anything to help out the community," added Tim Perry, 19, who sat finishing dinner at the soup kitchen, which was packed on this weeknight that outside felt more like winter than autumn.
Many of the clients were eager to share their remembrances of Aldrich as they finished up their dinner.
"He was like a best friend," said Mary Lawson, 19.
Lawson has been coming to the soup kitchen since she was 3 and has known Aldrich since she was 8. Aldrich made a big deal that Lawson shared a birthday with one of his daughters. Lawson was touched that when her uncle died, Aldrich attended the funeral.
From the time she was young, Aldrich would greet her with, "Where's my hug today?"
Those hugs brightened her day and helped her through tough times, Lawson said.
"He had so much respect," said Jenna Graham, 33. "There's not one person here who didn't love that guy."
The respect went both ways.
Tammy McNeil had worked for five years as assistant kitchen manager. She became manager after Aldrich's death.
"He was a super person. He treated everybody with kindness," McNeil said. "He taught me to treat everybody like family."
"When I was growing up, I never thought I would be eating in a soup kitchen," said Herbert Lewis, who has lived in Nashua for 40 years.
But in coming to the soup kitchen as a client, Lewis learned from Aldrich the importance of community service. He now serves food during dinners sponsored by New Fellowship Baptist Church on Ash Street.
Through the example that Aldrich set, Lewis also helps out at the soup kitchen, clearing tables or doing anything that needs to be done.
"I volunteer any time I can," he said.