Community college viewers hope Obama hits ground running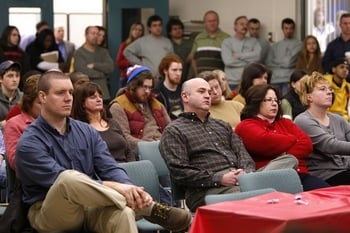 NASHUA – Ilona Steinhart sat near the front of the room and took aim.
Cell phone in hand, she pointed it at the projector screen and snapped. There in her camera phone, Steinhart captured the image of Barack Obama, taking his oath of office Tuesday.
For Steinhart and the rest of the 100 or so folks who stopped to witness Obama's inauguration at Nashua Community College, it was a memorable and historic day.
But when the pomp and circumstance die down, people said, they are ready for the new president to hit the ground running.
"My hope is that he delivers on some of the initiatives he talked about in his campaign," said Jason Pennington, who teaches American cinema and oral communication.
Although Pennington is optimistic about the new administration and Obama, Pennington added that he is "tempered a little by the expectations for (Obama), which are extremely high."
Pennington hopes there will be particular focus on community service, with Obama providing more incentives and easier ways for people to engage in that activity.
"We really do need to find a way to help each other," Pennington said.
In that vein, students Tyler Deary, Sean Arpin and Gaius Kamara were aligning the formation of their new club with Obama's inauguration – in particular, with his message about reaching out to other countries.
The students are starting a group called "Fight the Good Fight," an organization dedicated to raising money for children of Northern Uganda.
Deary, a 19-year-old political science major, said the idea sparked after watching "Invisible Children," a documentary film about the plight of child soldiers in northern Uganda.
"It was a day of a great, powerful message," Deary said. "Everyone was already amped up about how far we've come as a nation . . . and doing more for others."
Deary and his friends agreed that Obama would do well to remember young people and push for an educational system that fosters discussions about "the real world" and relationships.
"I think they need to pay attention to us more," said Kamara, a 19-year-old psychology major. "We are tomorrow."
RoseErin Moylen, a freshman liberal arts student who is considering a concentration in environmental studies, said she hoped Obama would usher in stronger laws governing harmful emissions and earth-friendly initiatives.
In addition, Moylen said she wanted to see improvements to the health-care system for her dad, who is in a wheelchair, and in the foster-care system, in which her best friend grew up.
Steinhart, 18, said her biggest wish is for Obama to take on education reform. She's a senior at Londonderry High School, but through a special program is able to take college courses.
"My family doesn't have much money, which is why I'm here," Steinhart said. "I have friends going into the military because they can't do anything else."
She said she hopes Obama will push for more programs like the one she's in and eventually reform the education system.
"I heartily believe if he cannot achieve it, that he'll (at least) make education more accessible," Steinhart said.