Commission OKs $10k to buy land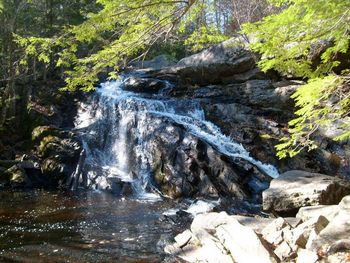 LYNDEBOROUGH – The town remains on track to acquire land along Purgatory Lower Falls from the Souhegan Valley Land Trust.
The town was scheduled to receive the deed to the parcel, also known as the Faulkner Mill Site, from the land trust at a public hearing Dec. 29, but the recent ice storm delayed the required title search.
"We're not prepared to close, so this hearing is on whether the Con Com should make the donation (to acquire the property)," Conservation Commission member Mike Decubellis told selectmen during a recent meeting.
The commission will donate $10,000 to the purchase.
Purgatory Brook, which forms the border between Lyndeborough and Vernon, has been the target of land preservation efforts for decades, many of them build around two small waterfalls.
The Upper Falls, site of a 1890s recreation and picnic area, is already owned by the town of Lyndeborough.
When the lower falls property went on the market, Decubellis added, "SVLT came to us and asked if we were interested in working with them."
Decubellis said Nashua Regional Planning Commission "identified Purgatory Brook as a high priority (for protection). The land trust was formed (in the early 1970s) to acquire the upper falls. The whole three-mile stretch (of the brook) is now almost entirely under protection."
No problems are expected from the title search, according to SVLT member Spencer Brookes. A search was made last year when the trust purchased the 5.5-acre property "and the problem we discovered (with a boundary line) has been resolved," he said. "There is nothing to keep the town from accepting it."
Selectman Steve Brown asked, simply for the record, why the purchase was important.
Brookes said SVLT will maintain the right-of-way and that group member Whitney Carpenter "is responsible for monitoring the land, checking all of the boundaries at least once a year. We have put aside money for that."
Selectmen and others said the acquisition was a "great idea."
"This is a unique piece of property because of the mill site," which dates to the early 1800s, Brookes said. The mill burned in the 1950s, leaving remarkable stonework and a few odd pieces of the millworks.
Five people attended the 20-minute hearing.