Colon cancer coalition pushes for legislation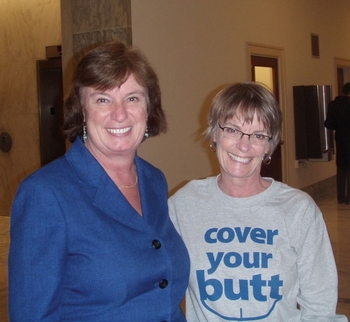 MERRIMACK – Patti Laliberte considers herself lucky.
In 2007, the Merrimack resident was diagnosed with colon cancer after a routine colono-scopy screening. She had surgery and underwent chemo-therapy for eight months.
Now that the 54-year-old nurse has a clean bill of health, she's back to hiking, running, biking – and a new activity: advocating for her cause.
This week, Laliberte went to Washington, D.C., as part of a national effort to push the country's second-leading cancer killer into the spotlight.
"After the cancer experience a year or so ago, I've been trying to find my voice," Laliberte said. "I really think that this is it . . . You feel like you can really make a difference."
In the nation's capital, Laliberte joined 60 other survivors, patients and caregivers through a Washington, D.C.-based nonprofit group, the Colorectal Cancer Coalition.
"C3," as it's called, trained Laliberte and her counterparts to speak with their representatives about The Colorectal Cancer Prevention, Early Detection, and Treatment Act. The legislation would provide states $50 million in grants to screen underinsured people, provide professional training for colon cancer detection and other initiatives.
Laliberte said she met with Sen. Jeanne Shaheen and a health-care aide of Sen. Judd Gregg. She also met with Rep. Carol Shea-Porter, who immediately signed on as a co-sponsor. The legislation is awaiting a vote in the House.
In the meantime, Laliberte is also pushing for cancer awareness and funding on the state level.
Last year, she said Gov. John Lynch cut funding to "The Cancer Plan," which provides money for cancer-related programs – including 700 colonoscopies for under-insured and uninsured New Hampshire residents. This week, she said, a small committee voted to add money for the plan back into the budget.
To Laliberte, the move was a victorious step in the right direction.
"Grassroots advocacy really does work," Laliberte said. "What a thrill to make a difference."