Co-op students, teachers resume classes after storm delay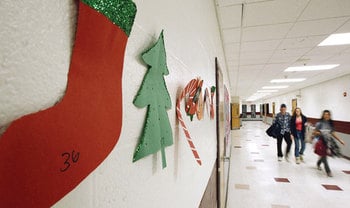 WILTON – With students having been away for nearly a month, Joe Lambert wasn't taking any chances.
At the start of his woodworking class at Wilton-Lyndeborough Cooperative High School on Monday, Lambert hammered home the importance of safety as his students resumed working on projects that had been in a holding pattern since Dec. 11.
Having been away from the equipment for so long, this is when accidents are prone to happen, Lambert said.
"Continuity is so important for students," Lambert said, as he kept a vigilant eye on the class.
Last month's ice storm shut down power to hundreds of thousands of homes across New Hampshire, but it also froze school calendars, resulting in an extended vacation for students and teachers.
For many schools, Monday marked the first day back since the ice storm. Many students said they were anxious to come back and that Monday felt almost like the first day of school after a long summer break.
"It felt like we were starting a whole new year," said 15-year-old sophomore Anna Loring.
On the first day back, Rebakah Lizotte said getting back on track was a challenge.
"It was hard to remember where we were," she said.
Lizotte, whose family lost power for nine days, said she had been ready to come back for a while.
"I'd been watching my little sisters for days and days," she said, laughing.
The day actually started with a delayed opening, due to the icy roads. Principal John Ingram said that was a blessing in disguise, as it gave him some more time to meet with staff that morning.
Ingram said he talked with staff about the long break and adjusting to getting started up again.
"It has been 25 days since we'd been together, and we acknowledged that there was going to be lots of conversations and stories about what happened," he said.
Students and teachers alike have lost some momentum, he said, and it is important to get that back as soon as possible.
Math teacher Shirley Schneider said she would be spending the first couple of days back reviewing where students left off prior to the storm.
"I'm probably going to go back and reteach a couple things," she said.
Schneider said her biggest concern is making sure students have enough time to cover the material they need to before moving on to the next course.
Some students said they were concerned about taking final exams, which are scheduled for later this month, without having enough time to go over all of the material.
Ingram said there would be another staff meeting today to go over that very issue, and that he would then make a recommendation to the superintendent and have a decision by next week.
"I'd imagine we'd probably extend the semester by a week," he said.
Ingram said he hoped to have a letter sent home to parents by sometime next week about what would happen.
For seniors looking to apply to college, the end of December and beginning of January is a critical time to complete applications and student loan paperwork.
Even though school was out, guidance counselor Chris Haines said he and others in the department were at school working with students on making sure they had everything sent on time.
Haines said that atmosphere at the school Monday was upbeat.
"It's like we haven't missed a beat," he said.
Librarian Carolyn Bailey said that Monday was supposed to be the last day of the semester for students enrolled in virtual high school. The students have been granted an extension so they can finish their work, she said.
With the extended time off, the walls of school were still covered with Christmas decorations. Lizotte said one of the things students missed out on was being able to exchange presents with one another.
Ingram said there were some holiday concerts that had to be canceled.
"There were some things that are important to the school community that took a hit," he said.
As for how – or if – the missed school days will be made up, that has yet to be decided. State Commissioner of Education Lyonel Tracy has said he is willing to consider waivers for some of the days.
During lunch Monday, students were talking about the possibility of having extended school days. The state allows for districts to schedule their school year by hours, instead of school days.
Most students said they were open to any idea that didn't involve going to school until the middle of the summer.