Co-founder says goodbye to military friend MooreMart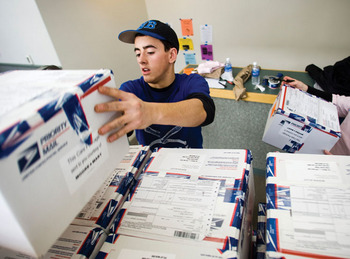 NASHUA – It's always been a pleasure working with all of you," a surprised Carole Moore Biggio said Saturday in the Eaton-Richmond Auditorium at Daniel Webster College. Biggio was surprised and emotional when she walked into a room filled with people who appreciated all the work she has done for the men and women who serve in the country's armed forces.
"It's so touching, so meaningful, so kind of everybody to take time out of their weekend," she said.
Members of the community presented several gifts to show how grateful they are for the work she has done for nonprofit MooreMart over the last five years: a soccer ball from the city; letters from Gov. John Lynch and Sen. Judd Gregg; a commendation from the Marine Corps; and a New Hampshire National Guard flag that was flown over Camp Rustamiyah on Nov. 4, Biggio's birthday.
"Carole does nothing," said a laughing Paul Moore, Biggio's brother and cofounder of MooreMart.
Biggio and Moore started MooreMart five years ago when their brother, Brian Moore, a sergeant first class in the Army, and his unit were sent to Iraq. MooreMart continues to send packages to servicemen and women.
The Moores sent care packages to their brother and the rest of his unit during their deployment, and the soldiers joked with Brian Moore, saying than Wal-Mart.
" 'Sergeant MooreMart,' " Brian Moore said. "That became my nickname."
Brian Moore said all of the work his siblings put in to create the packages was wonderful. The packages are catered to a unit's needs, depending on the climate and location.
"It reminds you of home," he said about receiving a package while on a mission overseas. "It's a nice way to bring everyone together."
Debbie Bohannon, a close friend of Biggio's and soon to be filling her big shoes and helping out Paul Moore when Biggio moves down South because of her husband's job transfer, said there are no words to describe how much her friend will be missed.
"The dedication she has to the troops and making their lives a little brighter through a care package," Bohannan said, "there is not a value that can be put on that."
Some of the men and women fighting to keep the country safe don't have people at home to send them anything. Bohannan has enjoyed being a part in watching the worldwide service to soldiers and children that Biggio and Moore have done.
"It was a beautiful tribute to the work that has been done and the impact MooreMart has had on our service members," she said.
Showing the importance the troops have through sending a care package or even a letter is something so small, but means so much.
"It's a wonderful feeling letting servicemen know how much they are appreciated," Biggio said.
In efforts to expand their mission to send packages not only to servicemen and women but also to children in Iraq and Afghanistan, MooreMart had its first School Supplies for Iraqi Kids drive, during which 110 backpacks were collected.
"I couldn't imagine life without this," Biggio said.
Since MooreMart was founded, there have been about 19,500 care packages sent overseas. The group has gone from sending 25 packages a month to between 500 and 1,000 every six to eight weeks.
The brother and sister agree it's always nice to find out where the packages end up. The letters received from units thanking them for caring are touching and heartwarming, Paul Moore said.
"These kids really appreciate that someone is thinking about them," he said.
After a shipment, a massive number of e-mails and letters are received. One photo stands out in Biggio's mind; it's of a mailroom at a Marine base.
"Our boxes were piled to the ceiling," she said.
Biggio has been a huge part of making people smile during such times.
"I'll miss her a lot," Paul Moore said. "She's my best friend."
Biggio will be miles away from MooreMart, but will continue to do what she can long distance to make sure the men and women serving the country know how much they're appreciated.
All military can be placed on the list to receive care packages at no charge. For more information on how to get involved with MooreMart, visit MooreMart.org.