Cleanup cramped by snowstorms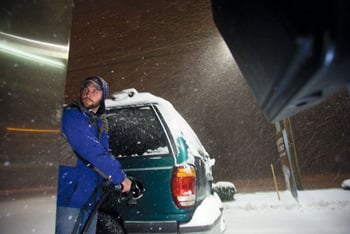 NASHUA – A storm on top of a storm on the heels of last week's ice storm has complicated cleanup efforts and put a strain on city crews.
With two snowstorms forecast to hit the region this weekend, city officials are asking residents to be patient – and to lend a hand by shoveling sidewalks in front of their homes and businesses.
"It always complicates things when you have a storm on top of a storm," Mayor Donnalee Lozeau said. "We saw that play out a bit last year."She added that while "our crews are a doing a terrific job," the city has only so much manpower at its disposal.
Partway through Friday evening most area departments reported very little activity, despite the first significant snow fall of the season, which some years leads to more accidents than usual.
"People got the word to stay home, it's snowing out," said Amherst Fire Chief Rick Todd, who was working at the Hollis Police dispatch center.
Merrimack dispatcher Mike Piccolo could hardly believe his luck.
"I was dreading all night coming in. I thought it would be one thing after the other," he said. "Surprisingly it's the big 'Q' word."
Nashua police Sgt. Randy Dumais said police have responded to a handful of accidents involving cars sliding off the road, but none caused series injures.
"It hasn't been overly busy," he said.
"I think we got lucky and a lot of people decided to go home early today," said Hudson police Sgt. Tad Dionne. "For a Friday storm at rush hour, it was great as far as that goes."
The city has declared a snow emergency that began 6 p.m. Friday until 7 this morning. Motorists are prohibited from parking cars on streets and in municipal lots. However, free parking is available in parking garages on Elm and High streets.
Drivers who leave cars parked on streets or in municipal lots face a fine of $200.
Also, City Hall closed at 3 p.m. Friday.
"I always am careful making that decision. You don't want to inconvenience people, but it makes sense," Lozeau said.
As snow began accumulating from the first punch Friday afternoon, city officials had their sights set on the aftermath of the second punch that would come Sunday and getting kids to school on Monday morning.
Assuming the second storm ended early enough that classes could open Monday, city officials are asking that owners of homes and businesses that lie along the path to a school help out by shoveling their sidewalks.
Any help to ensure that children have a safe path to walk to school would be appreciated, Lozeau said.