Claremont's 'game-changer'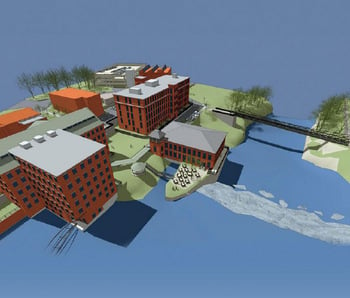 Eagerly awaited construction and renovation of Claremont's Monadnock Mill buildings began earlier this month shortly after final financial details were worked out.
On May 5, crews began working on Monadnock Mill No. 2 and No. 6, the future home of Red River Computer Company — which is moving its corporate headquarters to Claremont from Lebanon — and the 36-room Common Man Inn. 
A new Common Man Restaurant will simultaneously open in the Woven Label building, an abutting structure, where two other floors will be developed into Class A office space and will be available for lease. The Sawtooth building is being converted into a parking garage.
"I don't believe it's an overstatement to say this is an historic event for Claremont," Claremont City Manager Guy Santagate told the Eagle-Times newspaper. "It's a game-changer, and it will change the game in Claremont."
The key player in the project is developer John Illick of Sugar River Mills Redevelopment LLC, who recruited Alex Ray, owner of the Common Man family of restaurants, and Rusty McLear, owner of the Inns at Mill Falls complex in Meredith, who are teaming up on the restaurant and inn.
"Our studies indicated that the community could use more guest rooms to meet the needs of visitors and tourists in the area," said McLear, who said the inn's rooms on the lower two levels of the mill overlooking the Sugar River, "will make the inn an interesting and unique destination."
Both the inn and restaurant will be completed at the same time "and will provide a full hospitality package in an historic urban neighborhood," said Ray.
Also key were Richard Mann, Nick Anderle and Rick Bolduc, owners of Red River Computer, a reseller of computer systems, software and peripherals with more than 50 employees.
Bolduc said the location will double the firm's current space "and allow the company to meet its growth projections."
"The partnership with Red River Computer and the Common Man was a critical element to the success of the project," said Illick. "A project of this scope needs more then a developer interested in renovating an historic building. It also requires businesses to occupy and participate in the process. It would have been very difficult to go through a historic review process to attain the preservation tax credits without knowing the use and architectural interests of the businesses that would operate in the mill."
Architects involved in the project include Chris Kennedy and Doug Sonsalla from UK Architects in Hanover and Karollina Jablonska-Burtt of The Architectural Studio in Enfield. ReArch Company LLC of South Burlington, Vt., is the project's construction manager. Conneston Construction Inc. of Laconia will provide construction management for the Common Man Inn and Restaurant.
Monadnock Mill No. 2 was built in 1853 and was originally used for weaving and spinning cotton and linen textiles. Mill No. 6 was constructed in 1915 and is connected to Mill No. 2 on all floors. The entire building has received certification as a national historic building and will be renovated in accordance with preservation standards established by the National Park Service.