Civil servant was dedicated to town, swans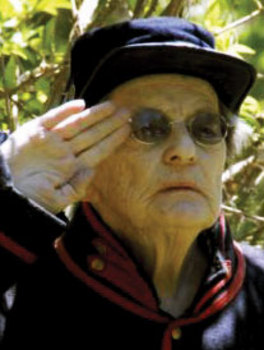 LYNDEBOROUGH – Edna Worcester was known as many things: keeper of the swans on Morison's Pond, staunch supporter of the Lafayette Artillery Company, dedicated member of the zoning board of adjustment and supervisors of the checklist, outspoken advocate of everything she believed in, and a dependable volunteer for anything that was for the good of the town.
Worcester, 72, lost her battle with cancer July 13. Her life will be celebrated at a gathering at the old Town Hall in Lyndeborough Center at 2 p.m. Saturday. Her friends are invited to bring their stories, memories and food to share.
Worcester was a longtime member of the former Dogwood Club, a social organization of residents of the Perham Corner section of town.
"She really enjoyed it, really liked our Christmas parties," neighbor Peg McEntee said. "She was disappointed when we decided to disband."
The swans belonged to John and Olga Morison, but their summer shelter on the pond was across the road from Worcester's home on Baldwin Hill Road. She kept her eye on them, saw that they were fed and housed, watched several hatches mature and even helped round them up when they wandered off. She considered them "her babies," and was more or less an expert on swan culture.
Ruth Johnston served for many years with Worcester on the zoning board.
"She was very strict about what we were doing for the person (before the board) was the right thing. She and (former board chairman) Bruce Geiger always listened to the people. She was a pleasure to work with and she rarely missed a meeting. And when Edna had made up her mind you knew she wouldn't change it."
She knew the ordinances and saw that they were followed, but she also believed in "using some common sense" when making decisions.
Johnston also worked with Worcester as a supervisor of the voting checklist.
"In studying for the voting," Johnston said, "she always had everything set up when I got there."
While Worcester was involved in many town functions, such as serving on committees and working toward the restoration of Citizens' Hall, the Lafayette Artillery Company was perhaps her first love. In 1990 she became the first woman to join after the bylaws were changed.
"She had a lot of pride in the artillery," Capt. Walter Holland said. "She always wanted to make it better. She made sure the uniforms were all cleaned before parades. She wanted us to make a good appearance."
Worcester had a love of adventure, Holland said. "Any time there was an adventure" such as the excursion to Connecticut to retrieve an artillery sword found on eBay, "Edna was the first to volunteer to go."
A few years ago, the company journeyed with their 1844 cannon to Claremont to fulfill the last wish of a veteran dying of Agent Orange, "to hear the roar of a cannon once more." They got permission to set up the cannon on his lawn and fire it for him.
That was a highlight for the artillery, Holland said. "It meant a lot to Edna, to honor veterans" because she a veteran.
Worcester and her sister June made the trip twice to Old Fort Niagara in New York to take the certification course for firing the cannon and the muskets. They returned to become recertified, Holland said. "She really enjoyed those trips."
Civil War re-enactments were also high on Worcester's list of pleasures. On the campouts she generally did much of the cooking.
"She had a way of cooking with cast iron skillets and Dutch ovens," Holland said. "I had her New England boiled dinner on one campout. So unique to have a meal like that cooked in the wood coals.
"Edna was always ready to talk to people about the cannon and the artillery," he added. "She encouraged people to join (the company). She felt the artillery was very important to the town, to preserve the history of it."
Many people remember Worcester for a statement she made at a town meeting. When she was supporting an article dealing with the artillery. She said, since the company was formed in 1804, "Lyndeborough has never been invaded by a foreign government."
Holland noted: "She was one of those people who was always there. She'll be sorely missed by a lot of people."
Holland called her a "feisty lady," and several friends recalled her determination.
Worcester once said she had always wanted to own a fire truck. When the opportunity came in the early 1970s to buy one, she did.
"It was a 1928 or 1929 model," neighbor Bud McEntee recalled. "She kept it a few years. She and her sister used ride in it in parades."
Ruth Johnston sort of summed it all up: "I thought she was a great person; there was nobody like her."