Civil charges dismissed against ex-Cabletron CEO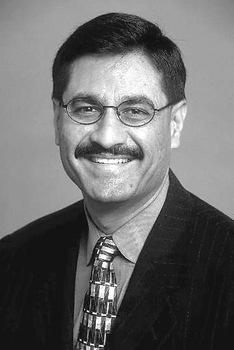 A federal judge last month dismissed all of the civil securities fraud charges against former Cabletron Systems chief executive Piyush Patel as well as two other executives – the former executive vice president of corporate affairs, Eric Jaeger, and its former controller, Larry Collins.
But the judge did leave standing two allegations against David Kirkpatrick, the former Rochester firm's CFO.
All of the charges were dismissed without prejudice, which means that the Securities and Exchange Commission can try its hand at prosecuting the foursome again.
The SEC charged the four, along with six others, with misleading auditors and investors by inflating revenue between 2000 and 2002, when Cabletron was spinning off Enterasys Networks, Riverstone Networks and Aprisma Technologies.
The 10 conspirators allegedly used several accounting tricks in numerous deals to count revenue in violation of general accepted accounting principles.
The tricks included secret side letters that would have precluded the deal from being recognized as revenue and investing in shaky companies that would use the money to buy products from Cabletron and its spinoffs.
Four of the 10 civil defendants were Enterasys executives who were convicted on more narrow criminal charges at the end of 2006 and were sentenced to terms ranging from three to 11-1/2 years. Three of those criminal defendants have settled or have lost by default in the civil case.
Judge Steven J. McAuliffe, presiding in U.S. District Court in Concord, ruled on March 24 that most of the charges against the former Cabletron executives – none of whom were charged criminally — were either not specific enough, or involved such small amounts of money compared to the overall overstatement of revenue as to be immaterial.
McAuliffe also noted that in many cases the defendants may have known about alleged misrepresentations but were not active in committing them. And in other cases, the defendants didn't sign the SEC filing.
McAuliffe, instead of adding up all the allegations as part of one conspiracy, appeared to break them down to measures of each defendant's particular contribution.
Similar reasoning
Patel, the highest-ranking defendant, engineered the split-up of Cabletron – once the state's largest employer – after taking over as CEO from co-founder Craig Benson.
But the spin-offs foundered, thanks to the bursting of the technology bubble in the early 2001 and the accounting scandal that plagued all of them.
Patel seemed the least responsible for the alleged wrongdoing, according to McAuliffe. Indeed, according to the court docket, Patel was actually terminated as a defendant on March 25 whereas Jaeger and Collins – who also had all their charges dismissed without prejudice – were still listed as defendants as of April 1.
The reasoning behind the dismissals was similar in all cases, but McAuliffe particularly emphasized that Patel was only mentioned as being specifically involved in two deals: an investment purchase deal with Cellit Inc. that resulted in the improper recognition of $1,005,000 in revenue and improper recognition of $701,000 in revenue from sales to TrustWave Corp.
In both transactions, the complaint alleges that Enterasys invested in the companies in exchange for the companies buying Aprisma products, even though Cellit and TrustWave did not need Aprisma's nor Entersys' products and vice versa. In Cellit's case, not only was the whole deal allegedly primarily done to recognize revenue, it was completed after the quarter in which that revenue was recognized.
"None of Patel's allegedly false statements related to more than one percent of Enterasys' quarterly revenue, and three of the four relates to less than one tenth of one percent of quarterly revenue," McAuliffe wrote. "In sum, the court is persuaded that none of the false statements about revenue attributed to Patel that were made in SEC filings can meet the materiality requirement."
That same materiality flaw resulted in the dismissal of all the charges against Jaeger and Collins, who also never actually signed the SEC filings, and most of the charges against Kirkpatrick as well.
But the complaint does charge Kirkpatrick with a more active role in more specific deals adding up to more money.
McAuliffe let stand a charge that Kirkpatrick made false statements to accountants and auditors, particularly since he signed the document.
According to the SEC complaint, in April 2000 Kirkpatrick granted distributor SG Cowen full exchange rights for 60 days following its receipt of products, but recognized nearly $2 million worth of revenue. He also signed Cabletron's representation letter to outside auditors that all side agreements with return rights had been disclosed. He signed a similar letter for Aprisma, the SEC said. The court also let stand a charge that Kirkpatrick violated a requirement for corporate record-keeping, again referring to the SG Cowen transaction.