City teen earns diploma with summer credits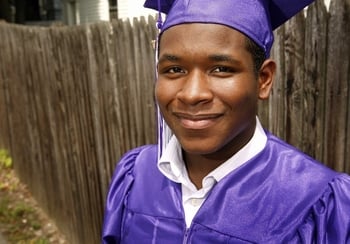 NASHUA – Victor Fajardo didn't know whether he wanted to go to his high school's graduation in June.
Fajardo was a senior at Nashua High School South, but unlike his friends, he hadn't earned enough credits to put on a cap and gown, walk across the stage and be handed his high school diploma.
Fajardo, 18, failed his required English course in the spring, which meant he would have to go to summer school to earn his diploma.
The most difficult part, Fajardo said, was explaining to his friends why he couldn't graduate with them.
No one had any idea he was doing that poorly in school, he said. "It was so hard to tell my friends that I had to go to summer school," he said. "I should have been walking across that stage with them."
Fajardo ended up going to the graduation in June to see his friends, but said he used that feeling of embarrassment as a motivator to finish his English course over the summer.
Tonight, Fajardo will be speaker at the Nashua School District's summer school graduation. He will be one of 37 seniors from the area who will earn their diplomas, albeit a little late.
"I wanted to be part of '09," he said. "I didn't graduate with them, but I made it."
Fajardo will finally be able to wear his purple cap and gown as he walks across the stage. Members of his friends and family are expected to be in the audience, he said.
Fajardo plans to attend Nashua Community College and take courses in entrepreneurship. He hopes to transfer to a larger college at some point. "I'd like to start my own business as an interpreter and translator," he said.
Fajardo said he wants to be a translator because he likes the idea of helping people. He is fluent in English and Spanish and has served as a translator for some of his relatives he has visited in the Dominican Republic.
He admits his ultimate dream is to be gospel singer. He is learning the piano and said he enjoys singing.
Fajardo said his bad study habits started in middle school and grew even more problematic in high school. "I just started not doing what I had to do," he said. At points, it felt like there was no way to get out of the hole he had dug for himself. "Once you try to do it, it's too late," he said.
Lisa McQuesten, director of the summer school program, said many of the students enrolled in the program have had similar issues to Fajardo's. They have the ability but lack proper study habits, she said. "I don't think it's that they can't do the work," she said.
Most of the students graduating tonight are from North and South, but there are also students from other local high schools, she said. The students will wear the colors of their respective high schools, she said.
Fajardo got off to a bumpy start in his summer school course. He missed the first two days, which meant that if he missed any more days, he would automatically fail the course. McQuesten said the summer school courses have a strict attendance policy. Unlike traditional school, there is a fee for students who want to enroll in summer school.
Fajardo said it was the teacher, Walter Heinhold, who called him and told him that he needed to get to school. Fajardo had Heinhold before as a teacher and said it would have been easy for Heinhold to give up on him.
From that point on, Fajardo said he made an effort to apply himself in the course. He said he takes full responsibility for the situation he put himself in.
"I don't want anyone to feel pity for me," he said. "We all have different ways of getting to where you want to get to.
McQuesten said she has been impressed by Fajardo's determination.
"I think the future holds some great stuff for Victor," she said.
Fajardo said he has two younger siblings and wants to be a role model for them. He volunteered to be the speaker at tonight's ceremony. He said he's a little nervous about it.
When asked what message he wants to send to his fellow graduates, Fajardo paused and thought about it. "You won't get anywhere unless you work for it."
Michael Brindley can be reached at 594-6426 or mbrindley@nashuatelegraph.com.