City raises tax rate by 1 percent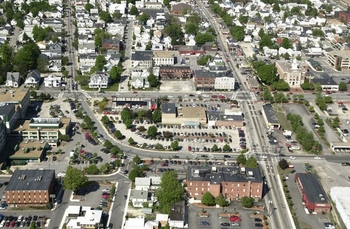 NASHUA – The city's new tax rate increased by less than 1 percent, the mayor announced Wednesday, and one alderman said it couldn't have come at a better time.
"This is one of our smallest increases over the last 10 years," Mayor Donnalee Lozeau said. "I hope this provides some comfort for our residents in these uncertain times."
Lozeau announced the tax rate during her remarks at the beginning of the board of aldermen's meeting. The state Department of Revenue Administration sets the tax rate based on financial information provided by the city.
The new rate is $17.55 per $1,000 of assessed property value. It marks an increase of 15 cents, or 0.8 percent, over the current tax rate.
With the new rate, the owner of a home assessed at $250,000 would pay $4,387.50 in city property taxes this fiscal year, or $37.50 more than last year.
Lozeau said the average city taxpayer would pay less than $4 more a month."This was accomplished in spite of the city facing increased operating expenses in utility costs, gasoline and payroll as well as some investments in the infrastructure and capitol equipment," Lozeau added.
"The small tax rate increase couldn't have come at a better time for a lot of folks who are struggling financially," Alderman-at-Large David Deane said.
"The mayor submitted a budget that, for the first time in recent history, was passed by the board of aldermen untouched," said Alderman-at-Large Brian McCarthy, chairman of the budget review committee.
McCarthy called that a "substantial accomplishment."
Deane attributed the small increase to the work of the previous budget review committee, which he chaired. He also praised members of the previous administration, including former Mayor Bernie Streeter, chief financial officer Carol Anderson and administrative services director Maureen Lemieux.
In a press release issued earlier Wednesday, Lozeau cautioned that the low tax rate increase this year would create challenges for future years.
"Our efforts to hold down increases this year will have an impact on future years, so, going forward, our challenge will be to continue to work towards stabilizing the property tax rate by prioritizing projects, instituting cost controls and investing in infrastructure," Lozeau wrote in the release.
The mayor also noted that in her budget message in June, she told taxpayers her goal was to maintain public safety and quality of services for Nashua while keeping the property rate reasonable.
"Today, we met both those goals," she said.
The release also advised residents on how to go about paying their taxes.
To avoid a trip to City Hall, taxpayers are encouraged to use the mail-in service for their payments, city officials said.
A paid receipt will be returned in residents' self-addressed stamped envelopes once the collection season has passed. A canceled check or mortgage statement will also suffice as a receipt for federal tax purposes.
Payments to the city must be postmarked by Dec. 18 in order to avoid an accrual of 12 percent interest. Property owners should receive their bill by Nov. 21.
Anyone who hasn't received a bill by that date is asked to contact the city's tax office at 589-3190 to be provided a duplicate copy.