City looks to environment to help raise test scores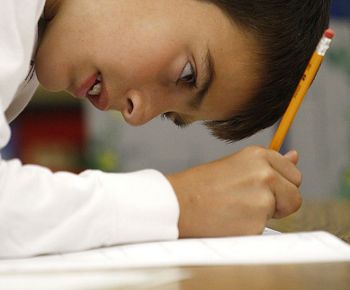 NASHUA – Sometimes success is all about environment.
That's the philosophy schools in Nashua are taking, with the next round of standardized tests under way this week. Most students started taking the tests known as the New England Common Assessment Program on Wednesday or Thursday.
Brian Cochrane, director of accountability and assessment for the Nashua school district, said there has been an increased focus this year on ensuring that students are in a comfortable testing environment.
Some of those accommodations, which are allowed by the state, include administering the test in a separate location or in a small group. Schools can also provide short breaks or allow a certain amount of extended time.
Special acoustics, lighting and furniture are also allowed, but they must be discussed prior to testing and must be documented, according to the state.
Although used in the past, accommodations weren't given as much attention in previous years, Cochrane said.
"So what we've had in some cases are results that didn't reflect the quality of work that's going on in the schools and student abilities," Cochrane said.
The city's schools are looking harder at these and other ways to increase student performance on the tests, because this year, the stakes are even higher.
The school district and nine individual schools have been labeled "in need of improvement" by the state because of student performance on the tests. District officials are working with the state to come up with a corrective action plan.
State education officials have already said they do not intend to enforce some of the more severe sanctions available under the No Child Left Behind act, like taking over schools or replacing staff action. Another year of missing the mark will force more change.
Debbra Uttero, who has been designated the Adequate Yearly Progress facilitator at Ledge Street Elementary School, said she has been meeting with teachers over the past month to talk about how best to utilize the state allowed accommodations to meet student needs.
"Any child can receive the accommodations if it is determined by the school level team that they would benefit," she said.
Some students have been put into small groups and the school is also trying to eliminate distractions and providing extra time when needed, she said.
Both high schools in the city will hold their testing later this month, between Oct. 14 and 16.
Both South and North have revised their schedules, requiring juniors to come in at the normal time to take the test, and allowing all other students to come in later. (See related item for schedule).
Students in grades 3 through 8 and 11 are tested annually in math and reading and their scores are used to measure whether they are meeting proficiency in those subjects.
Proficiency is measured by the state's grade level expectations.
Scores on the math and reading portion of the test are used to determine whether schools are making the adequate yearly progress benchmark. Students are also tested in writing, but it doesn't count toward accountability.
Schools can fail to make progress either as a whole school, or if a subgroup of students does not make enough progress. Students are broken into subgroups based on race, low family income, limited English proficiency and special education status.
For some schools that are already on the "in need of improvement" list, which comes after failing to meet the state's performance benchmarks for two consecutive years, improving test scores is critical.
For schools with large percentages of poor students, such as Mount Pleasant Elementary School, failing to meet the benchmarks means having to take corrective steps.
Like all of the city's Title I schools, Mount Pleasant has already offered school choice, provided tutoring and taken a corrective action. But the school is now in its fourth year on the list and must now come up with a restructuring plan.
Restructuring could include replacing all or most of the school staff, bringing in another entity to run the school, reopening as a charter school or "any other major restructuring of the school's governance arrangement," according to the state.
Maryfrances Tintle, principal of Mount Pleasant, said she met with state education officials earlier in the week to talk about the various options for the plan. No one is going to be replaced, she said.
"It's about helping the school focus on better ways to teach," she said. "It doesn't involve removing staff."
The school has the entire school year to come up with its restructuring plan. If the school fails to make AYP again this year, the school must then implement that plan.
Uttero said students at Ledge Street were told about the importance of the test, but said they were only asked to do their best and show what they know. Students were encouraged to get a good night's sleep.
A notification was sent home to parents to let them know about the test, she said.
Like other schools, Mount Pleasant also focusing on environment, setting up all testing on the top floor of the school to limit distraction. Tintle is optimistic scores will improve, but added there are other ways of measuring success.
"There's so much that teachers do that can't be measured on the test," she said.