City hospital reaches out with Merrimack center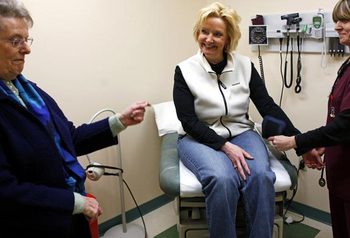 The staff lounge and conference room used to be a walk-in freezer. The area where the pediatric exam rooms, offices and reception desk are situated were once the back end of the kitchen.
On Saturday, during an open house at the new Merrimack Medical Center located in what for years was Newick's seafood restaurant on Daniel Webster Highway – visitors, including many who had patronized the popular local restaurant – were dumbfounded by the transformation.
The medical center is part of Southern New Hampshire Medical Center. It is also part of a shift in the way the Nashua-based health-care organization delivers services.
Instead of centralizing everything from well-patient visits to X-rays, laboratory work and procedures, the hospital in recent years has extended itself, moving into communities across the region that it has long served from downtown Nashua. The idea is to provide the proverbial "one-stop shopping" for health-care needs under one roof.
"I love it. It's a blessing for the patients because before they had to go to Nashua or Manchester," said Angela Dichard, a receptionist and medical assistant at the center who was part of the welcoming committee Saturday.
The open house began at 10 a.m. and ran until 2 p.m., providing guests with tours, freebies such as water bottles and hand sanitizer, as well as child safety-seat checks, blood pressure screenings and Wii Fit fitness demonstrations of an interactive video program that allows a user to build strength, endurance and cardiovascularcapacity and to improve balance.
Traffic into the parking lot and through the building was steady during the four-hour event. And there was a party-like atmosphere everywhere, from the lobby to the rehabilitation center, where guests lined up to try the Wii Fit program.
"They did a fabulous job," said Philip Jacobson, an unemployed analytical chemist who was touring the rehabilitation center with his wife, Paula, and their 13-year-old daughter, Molly.
Because he has been out of work for nine months, the Merrimack resident said, he's worried about being able to afford health care for himself and his wife. His daughter has qualified for New Hampshire Healthy Kids, he said.
Scott Cote, associate vice president for facilities and emergency preparedness at Southern New Hampshire Medical Center, said that when officials were exploring locations for future community sites, they identified the section of Merrimack near the Bedford town line as "a service area that had unmet needs."
"It's pretty obvious from the number of people we've had signing up for patient care and from how quickly this has taken off," Cote said.
The Merrimack Medical Center is one of several community-based centers the Nashua-based hospital has opened in recent years.
The aim of the Merrimack center, which includes physician practices, laboratories, radiology, physical and occupational therapy, and rehabilitative services, is to provide medical care that's located close to where patients live. That means serving town residents, as well as those living in nearby Bedford and Manchester. In a year or two, after a loop road is built, the facility is expected to draw patients from Litchfield and beyond.
"The building was ideal for us," Cote said.
Cote said the hospital had been looking in Merrimack for about two years for a place to build a community medical center when the Newick's space became available.
Indeed, the former restaurant was an almost perfect match.
For one thing, the space lent itself to retrofitting, which was less expensive than building a facility from scratch, Cote said.
For another, based on demographics, it was clear that the location would meet a large and growing demand for health-care services in the area.
Patients aren't the only ones likely to benefit from the opening of the new medical facility, Cote continued.
Between 20 and 25 jobs were created when the center opened, including those for doctors, nurses, reception staff, medical assistants, and laboratory and radiology technicians.
"We've been averaging 40 to 50 new patients a month," Cote observed, adding that new patients are coming from Merrimack, Bedford, Nashua and Manchester.
The new medical center opened with six doctors, four family-practice physicians and two pediatricians.
In the coming weeks, that number is likely to grow as a specialist wing opens, bringing in a dermatologist, an obstetrics and gynecology physician, an endocrinologist and a behavioral health clinician, Cote said.
Until the specialty practices grow, he added, the specialists will rotate among the community sites affiliated with Southern New Hampshire Medical Center.