City hopes small-business loan fund will lift some clouds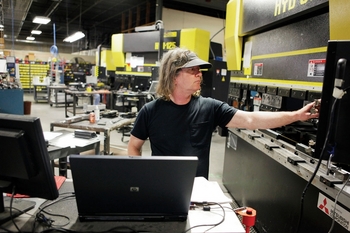 NASHUA – The city is sitting on some money it wants to get into the hands of the right business owners.
The city's revolving loan fund has $250,000 available that officials want to call attention to because of the dismal economy.
"The idea is to make a deal that wouldn't otherwise happen,'' said city economic development director Tom Galligani.
The loan fund has already proven what it can do for small businesses. Just ask James Jacobs, president of Rapid Sheet Metal.
In 2005, Jacobs and his 22 employees were crammed into a small, 8,000-sqaure-foot building the company leased on Airport Road.
The operation desperately needed more space, said Donna Upson, the loan officer for the loan fund.
"It was brutal. It was ridiculous,'' she said.
Eventually, Jacobs was able to find a 25,000-square-foot building at 104 Perimeter Road, on the other side of the airport.
Citizens Bank's was willing to finance 80 percent of the company's purchase of the building, Jacobs said. Still, he needed help to close the deal and approached the city.
Upson and other city officials saw his loan application as a good opportunity to grow a small business and agreed to issue a five-year, $100,000 loan, the most the city will lend, at about 1 percent above the prime rate of interest.
The city required Jacobs to put up his home as collateral, but that was four years ago.
Hard Times
Now, he has more than doubled his number of employees to 46 after paying off the city's loan a year and a half early and has three times the amount of space he had in 2005.
"From the city's perspective, the loan fund worked as it was supposed to, and for us, we were able to conserve our cash and buy new equipment,'' Jacobs said.
Things don't always work out quite so well with borrowers, but Jacobs' story is emblematic of what the loan fund is trying to accomplish, according to Upson and city Director of Economic Development Tom Galligani.
"The biggest compliment is job creation,'' Upson said.
The loan fund has been around since 1992, but officials would rather lend the available money than sit on it, especially in these tough economic times.
The fund is a pool of $750,000 in local and federal money available to both existing businesses and start-up operations in Greater Nashua, Galligani said.
The fund now has about a third of the pool, or $250,000, to lend, he said. To be eligible, borrowers must show they meet the Small Business Administration's lending criteria and that their operation will produce one new job for each $20,000 the loan fund invests, officials say.
Currently, the fund has 10 customers who collectively have borrowed $500,000, mostly for working capital.
Another $80,000 in federal Community Development Block Grant funding is available for clean technology and renewable energy operations, Upson said.
A committee administers the fund and makes the decision on loans. The five committee members include Galligani, Upson, City Treasurer David Fredette, Chief Financial Officer Mike Gilbar and Business and Industrial Authority member Steve Michon.
Upson has put together a pamphlet that outlines various scenarios under which a loan from the fund could be a good fit for a business.
Say, for instance, a small business owner is interested in purchasing a piece of equipment or a small piece of real estate. The purchase price would have to be below $125,000, the SBA minimum, Upson says. In such a case, the borrower's bank and the loan fund could split the loan, she said, with the bank in the primary lending position in front of the city, The practice is known commonly as "piggybacking'' and it reduces the bank's risk, she said.
The fund can also help businesses with lines of credit and with the conversion of short-term loans into permanent working capital, Upson said.
The loan fund piggybacked Jacobs' loan, but not every borrower is a success story, Galligani said. As the national economy remains stagnant, delinquencies on loans have risen, he said.
"Up until this fiscal year we usually had one delinquent, but now we have a few,'' he said. "It's just a sign of the times.''
Tom West can be reached at news@nashuatelegraph.com.