City homeowners still tangled in red tape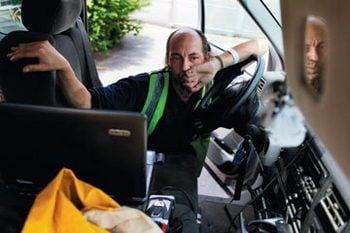 NASHUA – In the first five years they owned their home, Fred Prevo and Lee Ogonowsky refinanced at least four times, borrowing close to $100,000 against its rising value.
Their struggle to keep 12 Jackson St. out of foreclosure was the focus of a front-page article in The Telegraph last month. They continue to try to hold on to their modest home, even though it has landed them in bankruptcy court.
Prevo filed for protection from creditors under chapter 13 of the federal bankruptcy code on May 19, stopping a foreclosure sale that their primary lender, SunTrust Mortgage, had scheduled for the following day.
The petition was preliminary and the couple must still file a more permanent petition before a meeting with creditors is scheduled, Fred Prevo said.
Prevo was assisted by the Dargon Law Firm of Concord, whose executive vice-president for business operations, Denis Barber, read the story detailing Prevo's plight and offered to represent them for free.
The firm is a startup operation that hopes to build a reputation fighting for people who have run into trouble with their mortgages without fully understanding the terms of their loans, Barber said.
"I'm sick of hearing that this is all the borrowers' fault," he said recently. "I'm not saying there aren't honest brokers, but the industry is predominantly deceitful and unscrupulous, and preys on unsophisticated people like the Prevos."
On the surface, their financial difficulties are simple: Fred suffered a heart attack at age 44 in September and couldn't work for months. Up until that point, he and his wife had been able to pay their mortgage, despite borrowing more and more against the value of their home.
When Fred Prevo returned to his job as a battery technician and occasional tow truck operator at AAA of Northern New England, the company had issued pay cuts, from $14 an hour to $11. Moreover, because of his medical condition, Prevo could only work part-time on light duty for several months.
Lee Ogonowski, 47, has serious back problems, but still holds a job as a certified nurse's assistant at a Massachusetts nursing home. Her pay is modest and it became clear they could no longer make their mortgage payment of $1,445 a month.
Prevo contacted SunTrust to explain his situation and request a mortgage modification. He hoped to get his monthly payment temporarily down to about $900, he said.
In November, SunTrust referred him to First American Loss Mitigation Services in Fort Worth, Texas. That company said it needed copies of all the couple's financial records before it could begin to process the modification request.
Prevo said he complied with the company's orders and faxed the documents to First American. He called the company almost daily, he said, asking about the status of the loan modification. After six weeks of brushoffs, someone at the company admitted it had never received the documents, or if it had, they had been lost.
The couple went to Donna Abisi, a mortgage specialist with Salem-based Ross Mortgage Co., which issued the original loan for the home purchase in 2000. She helped them recompile their records and fax them again to First American.
Like Prevo, a growing number of borrowers facing foreclosure are finding it nearly impossible to communicate with lenders and work out a settlement, according to national news reports.
Yet some of their trouble was brought on by their borrowing habits.
They bought their home in January 2000 for $93,952, according to the Registry of Deeds. In February 2001, they refinanced for $97,977. In September 2002, they refinanced again for $137,726.
Less than a year later, in June 2003, they refinanced again, this time for $149,687, and again in June 2006 for $190,018.
The city of Nashua assesses their home at $177,000 for tax purposes.
Prevo now says he didn't understand the terms of the refinancing loans, which began in 2001 and ran through 2006. In 2007, they borrowed another $36,000 from Beneficial Finance.
"I'm not a money guy," Prevo said. "I didn't understand the jargon, but after the financial guy explained everything to me, I was in shock. If I had known then what I know now I wouldn't have done it."
Ross Mortgage handled all the refinancing except the Beneficial loan. Abisi says Prevo never told her he didn't understand the terms of the loan, which was later sold to SunTrust. She said she sat down with the couple at one point and tried to work out a budget that would enable them to manage their debt.
"I really like Fred and Lee and tried work out a budget with them." Abisi said, adding that the loan is backed by the Federal Housing Administration. The 2005 refinancing, she said, "was an FHA streamline to bring the rate down to fit their budget."
But Barber, who has 20 years experience in the mortgage industry, said each refinancing cost them thousands of dollars in equity they could have built into their home. After nine years of squeaking by on their mortgage payments, Prevo said, they still have zero equity in the house.
Barber is not a lawyer, but is in business with attorney Dan Dargon. The firm is trying to get SunTrust to agree to a loan modification to bring the debt down to $80,000 at an interest rate they can afford. If SunTrust doesn't agree, the firm may initiate litigation on behalf of Prevo, alleging deceptive and unfair business practices and possibly predatory lending, against both SunTrust and Ross, Barber said.
Barber said when it became clear the mortgage was in danger of default, SunTrust had an obligation under FHA regulations to reach out to the home owners and try come to a settlement. While Prevo reached out to SunTrust explaining his medical situation and requesting a loan modification, the lender did nothing except move ahead with the foreclosure process, which stopped with the bankruptcy filing, Barber said.
FHA has a loss mitigation program and participation by lenders "is not optional," according to a government manual for mortgagees.
Barber is further alleging that appraisals done on the home each time it was refinanced had to be substantially inflated in order for the couple to qualify for the hefty loans. The Prevo home is small, located at the end of a narrow, one-way street in a neighborhood next to the National Grid natural gas company. A house across the street recently sold for $72,000, according to city records.
The appraisers were selected by Ross as permitted by law, but Barber alleges there had to be collusion between the mortgage company and the appraiser to make it appear the home was worth the $190,000 Prevo owes on it.
The appraisers haven't been named, but Abisi said they had to follow FHA guidelines.
Meanwhile, Prevo says the whole ordeal has exacerbated both his and his wife's medical problems and made it difficult for them to do their jobs.
"I can't eat or sleep," he said. "We're neglecting ourselves and can't concentrate at work because we're so stressed out about what's going on at home."