City gets 1st female sergeant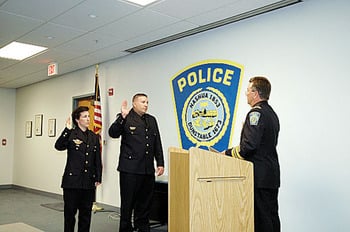 The Nashua Police Department has its first female sergeant after the promotion of two officers last week.
Sgt. Kevin Rourke and Sgt. Kerry Baxter each joined the department in 1998, in November and December respectively, and Police Chief Donald Conley promoted them from officer to sergeant Wednesday, police announced Thursday.
Baxter and Rourke have served as patrol officers, and both have spent saddle time on bicycle patrol. Both also have worked as detectives; Rourke in the narcotics division and Baxter in criminal investigations.
Baxter also has served as a recruiter with the department's Professional Standards Bureau.
Her commendations include the Medal of Valor and Congressional Law Enforcement Award in 2003.
Rourke came to Nashua after working for the Milford Police Department. His commendations include the "Billy Yout Award," Capt. Scott Howe reported.