City gets $1.3m in stimulus money for transit system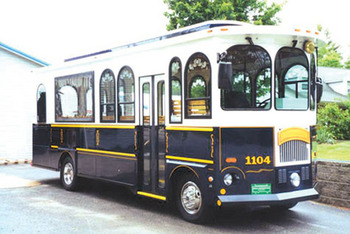 NASHUA – It's almost as if a bus carrying $1 million pulled into the city.
Actually, the big vehicle known as the federal stimulus package has bestowed $1.35 million on the Nashua transit system. The money will buy three new trolley-styled buses, revamp eight bus engines, and possibly restructure the transit center into a "green" building.
"We're using it. It's good for us. These are items and projects we needed," said Mark Sousa, director of city transit.
The federal government is providing $6.9 billion alone to transit capital programs nationwide. New Hampshire qualifies for $13.5 million of that funding, and the Gate City can use $1.35 million of it to modernize its bus system.
The money will allow for the purchase of three trolley-styled buses, modeled on those seen in the seaside resort town of Ogunquit, Maine, Sousa said. Each 28-foot-long bus will cost between $100,000 to $150,000, and can carry up to 30 passengers.The buses are ideal because they are mid-sized, Sousa said. Manufacturers make only larger buses nowadays, and a 38-foot bus wouldn't have fit the city's needs, he said.
Outfitted with wood paneling, the buses will look different and be practical, Sousa said. They have paneling to make them weather-friendly for winter. And they will alternate routes, making them visible over the city, he said.
The three buses will increase the transit fleet to 23 vehicles, eight of which are big buses. Those eight buses will get engine overhauls with the stimulus money, Sousa said. Other vehicles will also undergo repairs, and the transit system website will have a makeover, he said.
And if that seems to account for all of the $1.35 million, there will still be more to stretch over to a transit center renovation.
The Elm Street center is 10 years old and needs work, Sousa said. The stimulus money will allow the city to possibly add solar tubing lighting panels and allow for the capturing of rainwater, he said. The floors also need to be redone, he said.
The project will cost $100,000 and will go to out bid, Sousa said.
The state called City Hall in mid-March to notify officials of the stimulus money, and the state Office of Economic Recovery publicly announced it in early April. The city has been approved to use $1.35 million, but is still currently completing the paperwork to officially secure it, Sousa said.
Following the White House's demand that stimulus money be used almost immediately to improve the economy, the state has to obligate half of the $13.5 million transit money by August and all of it by February. All projects must be completed by February 2012.