City fair aims to generate energy-saving ideas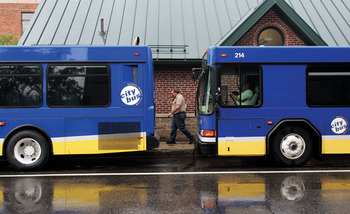 NASHUA – Amid the wood pellets, biodiesel engines and solar power demonstrations, an "old school" way of generating energy will be displayed at the city's third annual energy fair Saturday.
That method? The lowly Hula Hoop.
"You're making your own energy, you know?" said Suzanne Harvey, a state representative and member of the Nashua Green Team who is an organizer of the energy fair.
Actually, the Hula Hooping girl won't really be there to show off a planet-friendly way to generate energy, Harvey noted. Her role will be more to entertain children, along with a face-painting table and other activities.
Greeley Park promises to be packed with children, because the library's Summerfun series is continuing that day.
"Last year, a lot of people who came for the Summerfun events would wander over to the fair, and a good time was had by all," Harvey said.
What fair-goers – accidental or otherwise – will find from noon to 3 p.m. is a smorgasbord of ways to save energy, both in micro- and macrocosm terms.
Homeowners will find information about stoves that heat homes by burning efficient wood pellets and light bulbs that are light on energy use and long on lifespan.
For the bigger picture, there will be biodiesel vehicles and information on solar and wind power.
The fair is sponsored by the city Parks and Recreation Department and the Nashua Green Team. Also on hand will be representatives from the state Department of Environmental Services, the Sierra Club, PSNH, National Grid, New England Pellets, the New Hampshire Sustainable Energy Association and more.
"In terms of renewable energy, we've got a nice group here," Harvey said.
The biodiesel vehicles present will belong to the city.
"All of the city's buses are now biodiesel," said Mark Sousa, city transit manager.
The biodiesel fleet includes eight buses and 12 paratransit vans, Sousa said.
Harvey, a Democrat who represents the city's Ward 2, is a supporter of Project Laundry List, a Concord-based national nonprofit organization that promotes air-drying laundry as a way to save energy.
Many towns and condominium complexes, including Harvey's, have forbidden outdoor laundry drying as unsightly. She has sponsored "right to dry" legislation in the Statehouse to forbid such bans, but no far without success.