City DPW plow operator at home in No. 65 clearing North End streets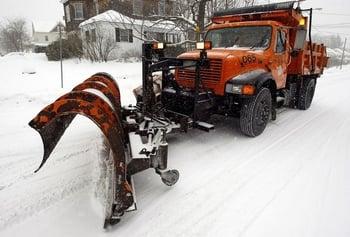 NASHUA – Plowing city streets requires a little science, a little art and a lot of hours.
Take the 33,000-pound, six-wheel International truck No. 65 that Dan Odierno drives on his North End route. The science part comes via the small computer mounted inside the cab.
The Compu-Spread system includes buttons and a joystick that Odierno uses to release road salt and raise and lower the plow and wing to push snow off the road surface.
At age 38, Odierno is a 14-year veteran of the city Public Works Department and has been working for the city 20 years overall. His experience lends itself to the art of plowing.
You can't just take someone off the street and expect him to drive a 232-horsepower vehicle that's 12 feet wide with its wings and weighs 16 tons loaded, maneuvering the truck around tight backstreet corners and through narrow roadways, Odierno said.
Especially when the driver often has to drive with one hand and manipulate the joystick with the other while keeping his eyes fixed for children, low-hanging mailboxes, cars either parked along the road or backing out of driveways, and sundry other hazards.
"Some of this stuff just comes at you. You've got to stay alert," Odierno said.
"That's why they keep us in the same runs, so you know what to expect and what not to expect."
As for the long hours, that's a yearly trend that makes truck No. 65 his home away from home for four months of the year. And that's why he and other drivers treat their city-owned trucks better than most people treat their own vehicles.
"Especially for winter, you take care of it like you own it, because you pretty much live in it," Odierno said. "This is your office from November to April. For those months, I'm pretty much here as soon as it snows," Odierno said.
With the latest snowstorm, that meant starting work at 6:45 a.m. and continuing to work into nightfall – which is Odierno's preferred time anyway because there are few cars on the road.
His run includes Manchester and Concord streets from Library Hill north, past Greeley Park, and a grid of side streets from the North Common to Pennichuck Junior High School.
Wearing his favored attire of a sweatshirt, shorts and Denver Broncos winter cap, Odierno navigated his truck over a loop in the area of Columbia and Bartlett avenues and Wellington Street, then reversing direction in order to get both sides of the streets. At 10 a.m., this was the second time he had made the loop.
"I'll end up doing this run three or four times before this storm's over with," Odierno said.
Included in the truck's 33,000 pounds are the 5 tons of salt it can hold. Rather than driving back to the Highway Department garage on Riverside Street to replenish, Odierno stops in at the Parks and Recreation's salt shed in Greeley Park.
During summers, Odierno works as a laborer for the Highway Department, helping out with asphalt and other duties. The truck also stays in use, with its plow and wings removed, of course.
But in winter, the truck's true mettle is tested – and for that matter, that of Odierno, who said he doesn't mind the long hours.
"I like the winter. That's when you make all your money," Odierno said.
Sometimes he wishes he could stay home when it snows and spend time with his wife and two daughters, ages 12 and 15. But the overtime he earns in winter pays for his family's summer getaways.
>>More Photos?<< Winter work is more than just plowing during storms. The snow has to be removed from streets and parking lots, which could take a week or more after a storm hits. Truck No. 65 is part of the Highway Department's fleet of 23 six-wheelers, four 10-wheelers, two 1-ton trucks, eight pickups, two loaders, one grader, one hired grader and 18 hired (subcontracted) trucks. That doesn't include vehicles used by the parks and recreation and school departments. One of No. 65's toughest streets on this particular afternoon was the short and steep Blue Jay Hill. Most of Odierno's run is flat, but this hill can be trouble, he said. He carefully pushed snow to where the street dead-ended at a hilltop, spreading salt and backing down to take another run up. While snowplow drivers aren't usually considered essential city personnel - that designation is reserved for police officers and firefighters - Odierno realizes that without the work done by drivers like him, ambulances and fire trucks could never make it to many houses during a storm. "I'd hate to see anybody get stuck," Odierno said, as his truck carefully climbed Blue Jay Hill, pushing hundreds of pounds of snow in front of it. "There's a lot of elderly people in this neighborhood," he said. Patrick Meighan can be reached at 594-6518 or pmeighan@nashuatelegraph.com