City crews, Humane Society rescue stroke victim's 25 cats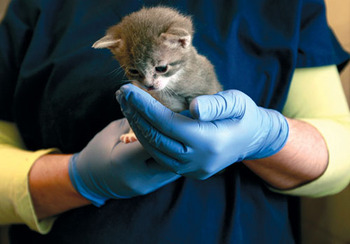 NASHUA – A sign reading "One Can Never Have Too Many Cats" was posted over a sofa bed at a Nashua apartment where 25 felines were taken away at the owner's request Wednesday.
After the tenant at the Ash Street apartment suffered a stroke, she asked a friend to care for her cats. Because there were so many of them, she released the cats to the Humane Society for Greater Nashua, asking to keep two behind.
"I feel bad for the owner. I'm sure she loves these cats," said Laura Lemieux, senior vet technician for the Humane Society, who went to the home to rescue the cats. "She doesn't have any family."
City code enforcement officials were later called in to check on the health and safety of the building.
Lemieux, who has been to one other cat rescue, said she was surprised the space was so small.
Fifteen of the cats were kittens between 5 weeks and 1 year old; two adults were pregnant. They were living in unhealthy conditions with trash and cat litter throughout the room.
"You couldn't enter the bathroom," said Tammy DeVito, animal care director for the Humane Society. "The cats were basically living in a pull-out couch."
DeVito, Lemieux and Vickie Bouchard, another vet technician, wore gloves and surgical masks while walking through the apartment, rotating in shifts due to toxins released in the air that can cause eyes to burn, they said.
"It was bad," Bouchard said.
"When people live in that all the time, they get used to the smell. It's not healthy," DeVito said.
DeVito has worked at the Humane Society for 10 years and has been involved in her fair share of rescues. Since cats are able to have three litters a year, situations like this are not uncommon.
"It's a lot easier to have 25 cats in a household than 25 dogs," DeVito said.
Before this rescue, the Humane Society already had 75 cats using up to 1,000 pounds of litter a week. The new arrivals put a strain on the Humane Society's already tight budget.
"Obviously, with foreclosures, we're seeing more animals left behind and less people calling," DeVito said.
Animals coming from people who are evicted have being increasing over the years. In 2007, the society saw animals from up to eight evictions in a month. In 2008, that number increased to 65. In 2009, the society has already seen more than 100.
"Sometimes people come and ask us for help," DeVito said.
In the past couple of months DeVito has noticed a drop in the numbers of people willing to adopt or provide foster homes to animals.
"We're concerned that with the economy, they -the numbers – will continue to stay down," she said.
The kittens are not up for adoption until they are at least eight weeks old, so that they can be vaccinated and spayed/neutered.
"We're running into kitten season as it is," DeVito said. "It gets out of hand."
As for the future of these kittens, everyone is optimistic they will find homes.
"They all appear to be in good physical condition," DeVito said. "We have concern for her – the owner."
DeVito plans to help the owner of the cats with the two she decided to keep and make sure the living situation is healthy for the animals as well as the owner.
For more information on how to adopt or foster these kittens or another animal, visit www.hsfn.org or call 889-BARK.