City ceremony marks Greek independence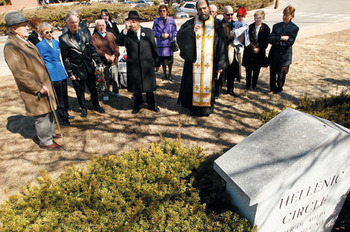 After 400 years of occupation and oppression by the Turks of the Ottoman Empire, Greece waged a war of independence on March 25, 1821. The fight lasted eight years until the acceptance of the Treaty of Adrianople, which included Greek independence.
On Wednesday, about a dozen people gathered at Nashua City Hall to observe the 188th anniversary of Greek Independence Day. Community members raised the flag of Greece – with a cross to symbolize the importance of the church and blue and white colors to represent the sea – and sang the national anthem.
"It is a moment full of pride for the Greek nation, celebrating freedom from the Turks," said the Rev. Tom Chininis of St. Philip Greek Orthodox Church.
Mayor Donnalee Lozeau read a proclamation that recognized Greek families and their contribution to the city's culture and heritage.
The group then moved to Hellenic Circle, near Nashua District Court, and laid a wreath at the stone honoring early Greek immigrants who settled in the area and the soldiers who fought for their freedom.