City celebrates its children with events old and new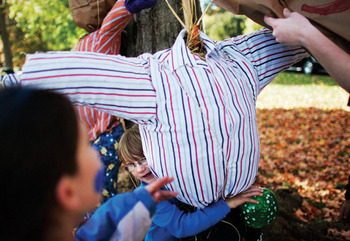 The Lights On After School celebration Saturday afternoon had a little something to offer for everyone. For the young to young at heart, there was plenty to enjoy on a beautiful October afternoon in Greeley Park. From face painting and board breaking to bounce housing and booty shaking, it's safe to say anyone who happened to stumble upon the festivities had plenty of activities to enjoy.
"We walked over here from home when we heard all the commotion, and we've had a great time," said Kevin Nadeau, a father of two. "This really is a wonderful event for families; it's definitely a great way to spend a Saturday afternoon."
The Nadeaus were just one of the hundreds of families who stopped by. Traditionally held on a Thursday afternoon, the event was moved to the weekend with the hopes that it would make it easier for parents to come with their children.
"There are so many families where both parents work, we hoped that moving it to the weekend would make it easier for parents who might otherwise have been too tired or too rushed to make it during the week," said Sue Almedia, program developer of Nashua's 21st Century Learning program and one of the event coordinators.
"Looking around, this is definitely one of the larger crowds I can remember seeing at this event."
Sponsored by the nonprofit organization Afterschool Alliance, Lights On After School is a national program dedicated to raising awareness about the importance of after-school programming in children's lives. Saturday's celebration in Nashua was just one of more than 7,500 events taking place throughout the country last week in conjunction with the program.
"There are so many benefits to getting involved in after-school activities," Almedia said. "Not only do they help to keep kids safe who might otherwise be home alone, they also provide them with a social outlet and a place where they can go to get work done and get involved in their communities."
Several local organizations set up booths offering activities, including the Boys and Girls Club of Greater Nashua, Big Brothers Big Sisters, the YMCA, Girls Inc., the Adult Learning Center and the Police Athletic League.
"We added a couple of new things this year, like a second bounce house and some other displays to try and add to the fun of the event, but we really wanted to step it up to showcase the different after-school programs available in our community," Almedia said.
Also new to this year's event was the Children's Day booth run by Samita Mohanasundaram. The Nashua High School North junior teamed up with the Lights On After School program to help celebrate Nashua's first Children's Day, a brainchild of Mohanasundaram's that has been several years in the making.
"I've always been involved in community service," she said, "and this is just one more way that I'm trying to get people involved by recognizing just how important children are to our future."
While the concept itself isn't new – President Bush has issued proclamations for a National Child's Day on the first Sunday in June since 2001 – Mohanasundaram believes people can never do enough to honor and respect children.
"The main theme for Children's Day is 'Inspire. Educate. Recognize,' " said Mohanasundaram, 17. "We're not asking for people to do anything huge, just really practical, pragmatic stuff, like having a museum give free tours to children or having a professional volunteer some time to come in to school and explain just what it is they do – anything that can help inspire kids to aspire to whatever they can dream of."
While it may be a few years before Mohanasundaram's ideas take hold nationally, she can take pride in the fact that she is already making her mark locally, having received an official proclamation from Mayor Donnalee Lozeau recognizing Children's Day in Nashua.
Other attractions featured Saturday included karate demonstrations by students of the YMCA karate program and Tokyo Joe's, dance shows from the Boys and Girls Club and YMCA, and a conga line of epic proportions, courtesy of event disc jockey Bernie del Llano.
Cheryl Gibbs, who has attended the event as a parent and volunteer with Girls Inc., said she and her children look forward to it every year.
"We've been coming to this for as long as they've had the program here in Nashua," Gibbs said. "It's an excellent program for both parents and kids, and really just a fun way to spend some time together."
Several local businesses were also on hand to help add to the event's success. CVS Pharmacies had a booth offering free hair coloring, while volunteers from Costco served cake for everyone. AMC Theaters donated free popcorn to the event, and Sam's Club contributed free hot dogs, much to the delight of Mark Taylor, 36, who attended with his sons Joshua and Jacob.
"This is definitely a great way for parents to learn more about these different programs, and we've had a lot of fun with the bounce house," Taylor said.
"Not to mention all the food. It's always good to enjoy some free food."