Church faces suit over property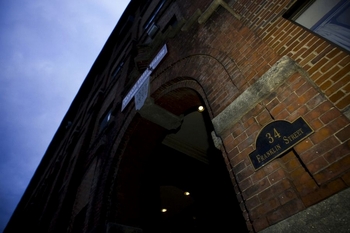 NASHUA – A developer has sued a downtown church, alleging breach of contract for failing to live up to the terms of a lease.
At issue: three parcels near the Nashua River that have long been eyed for redevelopment.
The developer, 34 Franklin St., LLC, has sued Grace Fellowship of Nashua Inc. The lawsuit was filed Thursday in U.S District Court.
A Delaware company with offices in New York City, 34 Franklin St. LLC, took over the deed from a developer known as Harper Nashua LLC.
Harper had proposed the construction of three new buildings and the conversion of three former Nashua Corp. buildings into condos, parking garages and retail space. Harper bought the property from Grace Fellowship Church, which had bought it from Nashua Corp.
Grace Fellowship, in turn, continued to lease property from Harper. That property includes the former and current site of Nashua Christian Academy. Grace Fellowship sold the property as it searched for a new site for the school.
When 34 Franklin St. assumed Harper's deed, it also assumed what it contends is debt owed by Grace Fellowship, according to court papers.
The Rev. Paul Berube, pastor of Grace Fellowship, said Monday that he wasn't aware of the lawsuit and had no comment.
The Delaware-based developer contends that Grace owed Harper Nashua approximately $22,955 for unpaid operating expenses related to the 34 Franklin St. property, plus at least $469,433 in rent for the other properties, and at least $55,132 for Grace's proportionate share of building operating expenses.
The other properties are located at 20-28 Franklin St., land at 21 Front St., and two additional parcels on Front Street, including a parking lot that lies behind the large, red-brick building at 34 Franklin St., according to court papers.
In the suit, 34 Franklin St. LLC, is asking for "declaratory, injunctive and other relief."
Besides breach of contract, the developer contends that "Grace materially breached the implied covenant of good faith and fair dealing."
The developer further alleges the church "willfully and/or knowingly used unfair and/or deceptive acts or practices in such trade or commerce."
Also, 34 Franklin St. LLC, contests the claim that Grace Fellowship is owed $790,000 by Harper Nashua in a mortgage dispute.
Dennis McKenna, a Boston attorney representing the developer, said he couldn't comment without his client's approval.
The land in question would have been part of a large redevelopment of water-front property west of Main Street and just north of the Nashua River.
Harper's plans called for 184 condos to be built at 34 Franklin St., 23 units at 55 Franklin St., 109 units on Front Street and 42 condos at 18-24 Franklin St.
About 55 percent of the units would have two bedrooms, while 45 percent would have one.
The development is adjacent to the proposed construction of a downtown river walkway and another 162-unit condo project that would be built by the Stabile Cos.
However, there has been little progress on the Stabile and former Harper development projects since the economy cooled. Stabile received an extension from the city for its plans.