Children learn about health, safety at 2 Nashua programs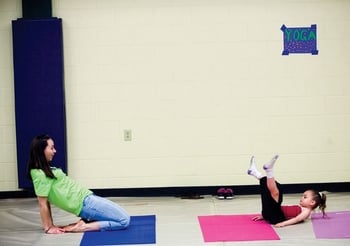 Sirens could be heard outside Nashua Community College on Saturday, but it wasn't because someone was injured or in trouble.
Instead, the intent was to teach children about safety during the college's Early Childhood Education Program Health & Safety Fair held in conjunction with the annual Week of the Young Child.
"As soon as we got out of the car, she ran to the policeman," Danis Mahar said about her 3-year-old daughter, Shya Mahar. "They are learning about safety and knowing that those are people that help us and be comfortable, not to be scared of them."
Mahar, of Amherst, was impressed with Nashua police officer Mike Welch, who he said was extremely nice to all the children. They were allowed to press buttons while sitting in the driver's seat, and one was even heard speaking over the radio.
Children also roamed all around a Rockingham ambulance, checking out all the equipment, and a UPS truck, in which children were seen sitting in the driver's seat and having pictures taken.
"It's nice because she gets to do this – learn about who to call for help – in a fun way," Mahar said.
On the way into the NCC gymnasium, early-education programs gave the children a lot of activities to choose from and offered information to parents.
Karin O'Donnell, of Nashua, a NCC nursing student, was there with her children, Keith, 4, and Karina, 2, and her husband, Keith.
"This is fun for the kids," she said, "and if we get them on the right track now, it will be better for them in the future."
Children sat on mats listening to stories, and also painted, jumped rope, played hopscotch, decorated cookies, played Wii Fit and went through a mini-obstacle course.
The Nashua Child Learning Center had a setup at which children could plant a seed and grow a flower at their house.
Global Youth Service Day
"It's always been known that the first five years are the most important," said Maria Donati, director of the Nashua Child Learning Center and a member of the Child Care Commission of Nashua. "It's important for parents to know what's out there for their children." Donati has been working with children for more than 25 years, and she said working with children takes "passion."
Donati has been working with children for more than 25 years, and she said working with children takes "passion."
"You really have to love this," she said.
The assistant director of the Nashua Child Learning Center, Heather Dechane, has been working with children for 20 years, and she was one of the many adults there to make sure that parents become aware of what the community has to offer their children.
"I love working with children," Dechane said. "It's very rewarding."
Danielle Skelley, a Mary Kay consultant in Nashua, was there with pictures for children to color, but also with information on the importance of skin care.
"We want to teach them early so they are armed with this knowledge," Skelley said. "The earlier you provide them with the information, the better."
The Treehouse Learning Center offered watercolor painting. Jen Wesolowski, head teacher in the toddler 2 class and supervisor, was there with Melanie Wile, preschool teacher, and Mary McCormack, assistant teacher for preschool and kindergarten. Wesolowski shared why it's important to raise early education awareness.
"The children are the future, so we have to provide them with the knowledge," she said.