Child safety regulation for libraries delayed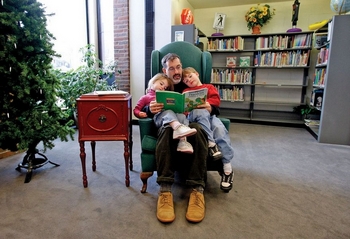 Kids can visit libraries, for now. While that might seem like an absurdist statement, librarians had feared that starting Tuesday, they would have to remove children's books from their collections or ban children from libraries altogether if they failed to meet a new federal regulation regarding lead.
But in a last-minute decision, the federal government delayed by one year the safety regulation that requires libraries to test books and materials for lead content.
The Consumer Product Safety Commission will instead study whether the regulation – aimed to oversee manufacturers of children's products – should also apply to libraries.
"I'm glad to see the delay," said Ann Hoey, youth services coordinator for the state library. "But we're still hoping that books won't be tested."
Librarians aren't off the hook yet. Technically, they still have to bring their collections into compliance in case the commission doesn't change the regulation.
The regulation calls for books and materials to be tested by an independent source, Hoey and other librarians said. This would break libraries' already thin budgets and prove to be a logistical nightmare, they said.
If libraries can't test their collections, they would either have to remove all of their children's books or ban children ages 12 and younger from their facilities.
"Depending on the extent of this, this potentially could be devastating," said Kathy Bolton, the children's services librarian at the Nashua Public Library. But librarians now have a year to prepare for a potentially far-reaching rule that some clearly weren't ready to follow and many others didn't even know about.
>>Looking for lead<< The Feb. 10 enactment date crept up on many librarians in New Hampshire, whether because they knew little about the new act, hadn't heard about it at all, or just couldn't believe it, Hoey said. The safety commission will use the extra year to review whether it should exempt certain products and materials from testing. The government agency also needs more time to decide when it should test and how. Congress passed the Consumer Product Safety Act in August after millions of toys - many of them manufactured in China - were found to contain lead and were recalled. The act calls for all children's products to undergo stringent testing for lead and phthalates. The safety commision had interpreted this to mean children's books and all other materials - DVDs, CDs and toys - handled by kids at municipal, school, university and museum libraries. But the American Library Association pushed back. Now, the library association also has a year to convince the safety commission to exempt libraries from the regulation permanently. Books haven't made anyone sick, and pose no threat to human health, the library association said. "The most aggravating thing is books are no danger," said Emily Sheketoff, executive director of the American Library Association's Washington, D.C., office. "A book is safe. The CSPC is wasting time with this issue on a product that is always safe. They should be focused on toys from China." If enforced, libraries must examine their holdings, but many librarians aren't even sure how or where to begin. Bolton said she wouldn't know how to start testing Nashua's 61,951 children's items - books, CDs and magazines - for lead. And despite the safety act's potential for turning library operations upside down, Bolton said she lacked information about the regulation. Jackie Hockett, head of children's services at Amherst Public Library, said she was still uniformed about the new regulation and didn't quite know what to think. Her library has about 16,000 children's books. Waldleigh Memorial Library in Milford has about 20,000 children's books and a large number of audiobooks and movies, library director Michelle Sampson said. "It would be kind of a hardship," Sampson said. "I'm sure it would be a hardship for any library." Yet, if items such as toys are recalled, libraries would act immediately and remove them, ALA's Sheketoff said. But books have never sickened a child, and to go as far as to potentially have them removed from libraries - or to prohibit children from libraries - is draconian, she said. "We agreed that this is an important law," Sheketoff said. "There is a real danger from products with lead but they aren't books . . . Some people think there is a danger in the content of books, but that's because they disagree with what's inside. But there is no danger from lead."