Charter school founder blames state for closing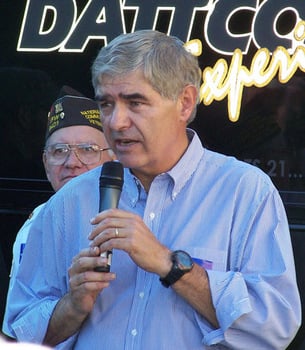 Leaders of the Franklin Career Academy charter school are blaming inadequate state support as the reason their dropout prevention program is going out of business this month.
The school's principal, Bill Grimm, said the school, approved by the state and not by a school district, would need at least $8,000 per student next year to operate a decent program. That's roughly how much it received this academic year, thanks to a much-debated special appropriation late in the 2007 lawmaking session.
At a June 3 press conference, Grimm handed out copies of an assurance former Education Commissioner Nick Donahue signed as part of a $7.2 million federal grant proposal for charter schools in the spring of 2003. It promised the appointing authority for those schools would provide for their "continued operation" after federal seed money was spent. According to Grimm, state officials were well aware Franklin was going to need $8,000 per year in aid.
The statutory power to approve charter schools rested with school boards at the time of the grant proposal. School districts had shot down plans for at least 10 charter school projects up to then. Lawmakers then gave the state Board of Education the same authorization power a few months later at about the time the feds awarded the $7.2 million.
Parents and students at the press event said they hoped the school would somehow survive.
"I got straight Fs at my other schools before Franklin," said sophomore Travis Greene. "I'm getting Bs and Cs here, and it's not easier grading."
Grimm said the average student gained two years of academic achievement in 2007-2008, with 65 percent improving in language arts, 69 percent in math, 76 percent in reading and 53 percent in science.
The Legislature eventually voted to approve a House-Senate conference committee recommendation to pay the remaining six free-standing charter schools $5,000 per child for 2008-2009, up to a state budget line item of $503,000. If they take on more than their current enrollment of 431 students, the per capita aid will be correspondingly less.
Grimm called that amount too little too late.
But Bill Wilmot, director of Seacoast Charter School in Kingston, was delighted his school will get even that much. He said it has more than $100,000 left from that special $800,000 appropriation and plans to implement some budget cuts for the fall. The following year, charter schools will receive almost $6,000 per student under a public school aid bill that passed in May.
Meanwhile, the state hopes for good news this month on a $5 million grant proposal it submitted this winter to start six new charter schools.
"I think the Legislature has just improved the prospects for that grant," Wilmot said. "They're giving charters the extra $1,200 (in permanent funding). And their long-term support is now part of the adequate education formula. Those are enormous steps forward."
Wilmot hopes the next budget process does even better by charter schools. But many people on school boards and in the Legislature are still leery of them.
Sen. Bob Odell, R-Lempster, sat on the recent charter schools conference committee and said it made little sense to "subsidize" programs with weak business plans.
Grimm called that charge "absurd," saying, "the Department of Education never requested funding for charter schools in 2005 or 2007 (both budget-making years)."
Yet another criticism of charter schools was voiced by Portsmouth School Board member Ann Walker, a retired teacher.
"I'm not in favor of letting public money go to basically private schools," she said in an interview.
Chris Dornin of Golden Dome News can be reached at cldornin@aol.com.