Chamber resounds with kind words for invaluable '16th alderman'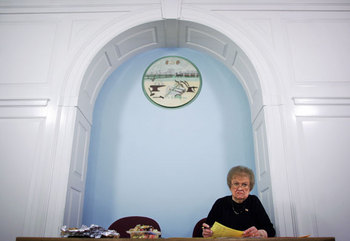 NASHUA – For 13 years and an untold number of meetings, Dot Nice has been a fixture in the aldermanic chamber of City Hall.
Taking her place at a desk on a raised platform in the back of the chamber, Nice compiled board of aldermen agendas, correspondences, amended ordinances and other papers germane to that particular evenings business.
She reserved copies for reporters and passed out the rest to members of the public who attended the meetings. Nice also shepherded sign-up sheets for public comment, and acted as de facto sergeant of arms, imploring members of the public to remove hats when they entered the chamber and to stand during prayer and the pledge of allegiance.
For this, Nice never received a dime. She devoted hours to city government as a volunteer and rarely missed a meeting of the full board. She attended many committee meetings as well.
Nice, 86, said she is "retiring." Last Tuesday's meeting was her last, she said.
"I've been here for 13 years. I started with the (Nashua Taxpayers Association), and I decided to stay on," Nice said. "I've enjoyed every bit of it."
Nice has been through five mayors (one, Bernie Streeter, dubbed her "Miss City Hall," she said), at least as many Telegraph reporters, and countless aldermen.
As word of Nice's retirement spread in the chamber that Tuesday, many aldermen expressed regret.
"I'll tell you, it's going to be strange not having you here," Ward 4 Alderman Marc Plamondon said. "I'm in disbelief."
Plamondon, in comments at the end of the meeting, referred to Nice as "our 16th alderman."
"What do you mean it's your last night?" chimed in Ward 1 Alderman Mark Cookson. "Thirteen years? Make it an even 14!"
Nice, whose husband, Walter, also turns 86 this year, said she isn't retiring from all civic service.
She'll continue on the board of the local VFW post and in her position with the SummerFun program.
Nice said her bleakest moment in City Hall was when her friend former Ward 6 Alderman Bob Dion lost his re-election bid last year. Dion had served five consecutive terms.
"I was heartbroken to see Bob lose. I didn't think Bob would ever lose," Nice said.
As for the high points of her unofficial tenure, Nice said there were too many to count.
"The respect they had for me was fantastic, every one of them. And respect means a lot," she said.