Chamber experts see fair to partly cloudy skies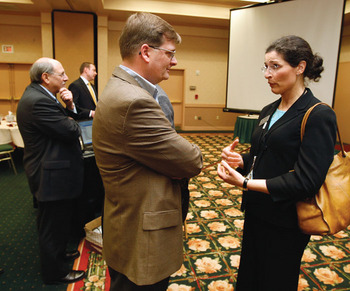 As a preemptive measure, boxes of tissues were placed on the tables before Thursday's annual economic forecast lunch in Nashua.
During a recession, these events are rarely full of sunshine.
And the speakers didn't disappoint, sharing tales of woe from the state's massive budget shortfall to a federal stimulus package that won't finish stimulating until 2019.
Not only is the state facing an estimated $120 million-$140 million budget shortfall this year – a small number in stimulus terms but big for New Hampshire – it appears the stimulus package won't fill in the gaps.
The news wasn't all discouraging. Like many experts before him, Northeastern University Professor Barry Bluestone said New Hampshire is a pretty good place to be during this recession.
Bluestone was one of two experts who spoke at the Greater Nashua Chamber of Commerce 2009 Outlook Luncheon, held at the Courtyard by Marriott.
He said the number of unemployed in the state has slipped at a rate far slower than the rest of New England or the country as a whole. The unemployment rate is holding steady at 4.6 percent, compared to 7.2 nationally.
"Even in good times, it's not that bad an unemployment rate," Bluestone, director of Northeastern's Center for Urban and Regional Policy, said.
In the long term, the job market in New Hampshire is expected to grow. Bluestone said the state should see about a 1.5 percent increase in the number of jobs by 2017, which may not sound substantial but is double what's projected for the nation as a whole.
On the bad news front, Bluestone predicted the stimulus package likely won't pull the nation out of economic trouble as fast as originally hoped. He came up with his own three-part stimulus plan, which included two "instant stimulus" measures.
The first would give a $1,500 "Uncle Sam" debit card to all Americans with the stipulation that they have to spend the money within 90 days. This would avoid the problems of the last stimulus package, when many Americans saved the money or used it to pay bills rather than pumping it into the economy. The second was a home price insurance plan that would encourage people to buy real estate. Anyone who bought a home but then had to sell it within 18 months for a lower price than what the paid would be reimbursed the difference by the government.
The second speaker, Charlie Arlinghaus, president of a New Hampshire-based think tank, walked the 200 or so guests through New Hampshire's own fiscal crisis and the tough choices that will have to be made to fix it.
While the governor has made it clear that he will veto an income or sales tax – practically taking the issue off the table for legislators – the state still needs to find ways to boost revenue while making cuts and avoiding tax increases, he said.
NUMBERS BY THE NUMBERS
"There's going to be a lot of pain in this coming budget," said Arlinghaus, president of the Josiah Bartlett Center for Public Policy.
Even before the financial crisis hit, the state already planned on a $12 million deficit this year. But the economy led to an unanticipated revenue shortfall of $280 million, which has now been cut approximately in half.
Gov. John Lynch unveiled his two-year budget plan Thursday morning in Concord, proposing the state close a prison, courts and liquor stores and lay off about 300 workers in light of the deepening recession.
Arlinghaus said he expects the state to seriously consider expanding gambling as a major source of new revenue and cautioned against lawmakers looking to one-time expenditures such as selling state property to make up for a budget shortfall this year.
He also warned of the "$7 billion mountain" that is pension and health-care funds for state employees. The state, much like private companies, can no longer afford its retirement system, he said. The $7 billion figure refers to current and future retirement expenditures for which the state does not have funding.
Despite all the bad news, Arlinghaus kept the tone light, peppering his speech with jokes. He's now referring to the stimulus package as "the bill formerly known as stimulus."
"We're not building that much stuff and we're not building fast," he said.
New Hampshire stands to get about $132 million in stimulus funds, despite a wish list from local cities and towns totaling billions.
t.