Catholic Medical Center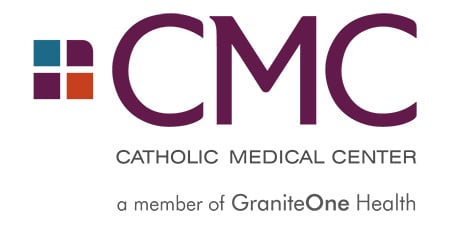 2019 Goals:
CMC will continue to expand access to high-quality care while improving the overall patient experience. We plan to do this in a variety of ways, including building capacity, enhancing operational efficiencies, applying cutting-edge technology, growing our partnerships with other healthcare and community organizations, and expanding our access to primary and specialty care practices. Through all of this, we will expand our employee base, always striving to be not only the hospital of choice but also the employer of choice in the region.
---
Fundraising Events:
Catholic Medical Center holds three premier fundraising events each year to raise money in support of CMC programs and services. The CMC Wine & Beer Tasting Event is held each spring to benefit the Poisson Dental Facility, a program that provides oral healthcare to underserved populations. In June, CMC holds a Golf Classic to raise money in support of the New England Heart Vascular Institute. In October, the CMC Gala Event is held to support Maternal Health and Infant Service programs. In addition to these events, each March CMC donors are invited to attend an annual Donor Reception in recognition of their support of CMC.
---
Giving Opportunities:
Generous donations help CMC expand access to care and create programs to meet the healthcare needs of the community. There are numerous opportunities available for donors to create meaningful gifts that will make a difference to patients CMC. Some popular giving opportunities include designating support for programs most in need, helping to increase access to healthcare through CMC Community Health Service programs and assisting in the purchase of life-saving equipment.
---
Volunteer Opportunities:
Volunteers are an important part of Catholic Medical Center, adding a valued dimension to patient care. CMC has more than 300 caring, dedicated volunteers helping improve the quality of healthcare in our community. Our volunteers are men and women of all ages and backgrounds, from students to retirees and everything in between.
---
Board Officers / Board Members
John G. Cronin, Esq.
Cronin, Bisson & Zalinsky, P.C.

Maria Mongan
Immediate Past Chair
Retired

Neil Levesque
Vice Chair
NH Institute of Politics

Matthew Kfoury
Secretary
Central Paper Products

Joseph Pepe, MD
President & CEO
Catholic Medical Center

Donald St. Germain
Treasurer
Retired

Rick Botnick
Botnick 5/Ventures Inc.

Robert Catania, MD
Surgical Care Group

Carolyn Claussen, MD
Willowbend Family Practice

Pamela Diamantis
Curbstone Financial Management Corp.

Katie L. Dionne
St. Anselm College

Louis Fink, MD
New England Heart & Vascular Institute

Powen Hsu, MD
New Era Medicine

Susan Kinney
St. Anselm College

John Munoz, MD
President of CMC Medical Staff

Diane Quinlan Murphy, Esq.
Bishops Delegate

Father Patrick Sullivan, OSB, RN
St. Anselm College Abbey