Career counselor offers advice to job seekers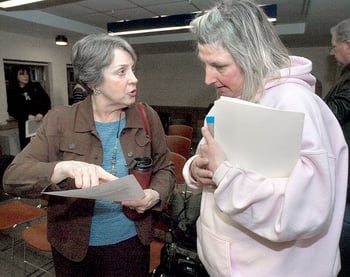 MILFORD – Get over your shame of losing a job and tell everyone you know that you're out of work.
That was a key piece of advice from career counselor Susan Henry as she talked to a standing-room-only crowd earlier this month at the Wadleigh Memorial Library in Milford.
"I worked with a brilliant software engineer who was out of work for nine months," she said. "He told no one of his plight, and he later learned that he would have been hired by a former colleague if that person had known he was out of work."
But first, she advised, take time to heal yourself and realize you are not alone.
"This country has experienced an incredible death since the fall of last year," she said, and encouraged the job seekers to let themselves go through the stages of grief – denial, bargaining, anger, depression and acceptance.
After that, it's important to come up with a five-year plan.
"Sit down with your spouse with a bottle of wine and talk about where you'd like to be in five years," she said. Decide what you really want to do and where you really want to work, and "research like mad."
Don't take just any job that's offered, she said.
"Think about people who worked for AIG," she said. "Not the corporate monsters, but the poor slob in accounts payable" who is part of a company that helped destroy the world economy.
For the young people in the audience, she advised getting rid of the glamour shots and drinking photos on their social networking Web sites.
Henry worked in international sales until Sept. 11, 2001, when she decided she'd had enough of flying around the world and wanted to give back to "this wonderful country, as smaltzy as that sounds."
She ended up at Nashua High School South, where she discovered the teachers had no idea how to help young people find jobs, so she started working in the school's career center.
"A lot of people thought I was crazy walking away from corporate America," she said.
Nashua High was paying less than her former quarterly bonuses.
Five years ago, Henry, 62, started to prepare for the retirement phase of her life. Last June she left the school and founded a career development advice firm, Henry-Adams Associates in Atkinson.
"If I can help kids get a job – boys with their pants down and girls with their boobs on display – I can help adults get a job," she said.
She advised job seekers to tell the truth, but not to sabotage themselves by admitting they don't have a college degree.
"That's the easiest way to have your resume discarded," she said. But there's an easy remedy: Tomorrow go to Nashua Community College or the University of New Hampshire-Manchester and enroll in one course: "then you're a BA candidate."
Henry had no illusions, however, about how difficult it is to find a job.
"I lived in the '70s and '80s, but this is a bloodbath," she said. "There is not a shred of civility left in business."
Education might be a better path for those who are skilled in math and science, she said, and explained how to get a teaching job without a teaching certificate.
"They are desperate for math and science teachers," she said.
11 things to do before a job interview
1. Learn as much as possible about the company.
2. Dress to get hired; never underdress.
3. Arrive 15 minutes early.
4. Be polite to everyone.
5. Make eye contact.
6. Bring at least four copies of your resume and reference sheet.
7. Prepare intelligent questions about the job and the company.
8. Be prepared for situational questions.
9. Ask for the job.
10. Write a formal thank you letter no later than 24 hours later.
11. Follow up within five days with a phone call.
7 things to do when looking for a job
1. Create a top-notch resume.
2. Create an exciting, and letter-perfect, cover letter.
3. Identify at least four professional references.
4. Create a professional e-mail address.
5. Clean up your Facebook and MySpace accounts.
6. Create a LinkedIn account.
7. Create a personal network base.
12 tips on writing a resume
1. Keep it to a maximum of two pages.
2. Match the resume to the job.
3. Tell the truth
4. Include nothing from more than 15 years ago.
5. Have someone else read it.
6. Check for spelling and grammar.
7. Make sure key words the skills employers are looking for are on the top third of the page.
8. Summarize your qualifications and technical skills
9. Include quantifiable accomplishments: "I increased sales 10 percent" or "I managed 50 people."
10. List references on a separate page. They can be different for each job.
11. Don't include letters of recommendation unless you're looking for a job in education.
12. Don't include the year you graduated from college.