Car show regulars pay homage to a favorite son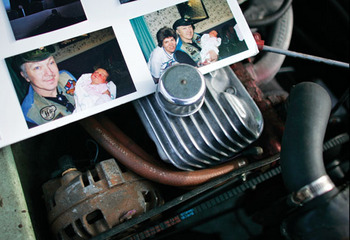 NASHUA – There was someone missing from the car show held in the Target parking lot on Route 101A on Saturday, and nearly everyone attending the event felt his absence.
Robert M. Walters II, a Milford resident who for years had been attending the weekly shows with his partner, Mary McInness, and their son, John, 15, died last Saturday of complications from diabetes.
In recent, years, Walters, 53, who had lost the lower part of a leg in a motorcycle accident years ago, had gone blind in one eye, undergone a kidney transplant and was starting to lose the vision in his other eye
He was unable to work – in the workplace or on his beloved pale green 1963 Plymouth Valiant, nicknamed "Slimey."
Nor was he in a position to buy parts or pay for detailing, expenses other club members consider routine.
But he was faithful to the car shows, and despite his health problems, he found ways to participate.
"He and John would sit in his wheelchair and collect tickets," said Linda Lewis, a longtime friend and neighbor who runs a weekly cruise night in the Granite Town Plaza in Milford.Lewis said that sometimes the father and son would ride around in Walters' wheelchair after a car show, picking up the orange traffic cones that had been set up before the event.
"He was the person you'd idolize for living. He had such a good attitude," said Sally Riggi, who started the Nashua car shows with her husband, Bob, five years ago.
There were few regulars who didn't know Bob Walters or his family.
"A few weeks ago, my wife and I were talking and we said we really have to do something for him, for the family," said Bob Fallier, the owner of a 1974 Lotus Europa.
Fallier and his wife, Diane, launched a fundraising campaign, determined to raise enough to pay for a professional detailing for Walters' "Slimey."
Bob Fallier said he paid a visit to Peter Proko, owner of Peter's Auto Center in Nashua, to ask for a discount on detailing.
"I like the idea," Fallier said Proko told him. "We'll do it as a courtesy."
Last week, after club members learned Walters had died at Southern New Hampshire Medical Center, they realized they would have to make a change in plans.
Through an e-mail list, they organized a memorial service in the Target parking lot Saturday.
"Bring munchies," club members wrote to each other.
And they did.
On Saturday, a table set up under a tent displayed plates of homemade cookies, dishes of candy and a large frosted cake in the shape of a car, colored green to resemble "Slimey."
Inscribed around the cake were the words, "Forever in our Hearts."
Riggi spoke into a microphone to reach the crowd gathered around her.
"Between all of you, we have almost $1,000," she said, choking back tears and presenting several envelopes to Walters' family.
"I was waiting for something like this, something from the community," said McInness, who three weeks ago married her partner of more than two decades in a civil ceremony at Alpine Grove in Hollis.