Car owners defend choice to drive small (and not-so-small) vehicles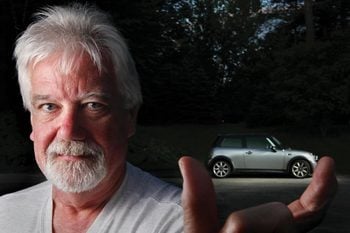 Bill Baker loves his Mini Coopers.
You can usually find two of them parked outside Baker's Milford home. The 2002 model is Bill's, and the 2006 is his wife Betty's. His son also has one, but he's currently living in California.
They like the car for its blend of size, pizazz and fuel efficiency.
For them, and many other car owners, size matters. That's a tired cliche, right? Well, when it comes to cars, there are people who definitely prefer their vehicle small, and others who want it big – big tires, big engine, big seats.
Whether it's a 5,000-pound Cadillac Escalade, a comparatively svelte 2,900-pound Mini Cooper or something in between, people identify themselves with what they drive.
Baker, who describes himself as a car enthusiast, said the "incredible" gas mileage is a major plus of his Mini, but it's not his favorite aspect of the car.
"In my garage, I have a restored Firebird," he said. "I had a Volkswagen Corrado before the Cooper, and this is the most fun I've ever had driving a car."
Recently, President Barak Obama
unveiled a plan to give tax incentives to people who purchase smaller, more fuel-efficient cars. Baker likes the idea, and said he made the switch to the Mini to save money on his daily commute to work in Durham.
"I think that's a good idea, because we need to cut down on whatever fossil fuels were using," he said. "I was going through, like, two tanks of gas a week, and, with a Cooper, I could do it with a tank."
"And I'm having a lot more fun doing it," he added.
On the other end of the spectrum, Dawn Joslin absolutely loves her Escalade. She purchased the off-white beauty a few years ago when she was driving a pick-up truck. She said that although her reasons for buying it weren't the best – "it was nice looking and had low mileage" – she doesn't regret the purchase for a second.
"I probably wouldn't get anything smaller," she said. "Smaller is not always better."
All the cabin space may look superfluous to outsiders, but Joslin said she loves the flexibility that the removable seats in the rear provide.
"When we went camping, we were able to transport everything, including the grill, in one trip. With a smaller car you have to make a decisions about what to bring or leave."
As for the pricey gas mileage that people usually associate with Escalades and bigger vehicles, Joslin said the pickup truck she used to drive was actually worse on gas. Plus, her experience working at an auto parts store in Milford made her question the popular notion that larger, less-fuel efficient cars are always more taxing on one's wallet.
"It's a give and take," she said. "People are getting 30 miles per gallon, but the parts are astronomical to get replaced."
Joslin doesn't agree with the president's plan to tax bigger, less-fuel efficient cars.
"Your preference of what you drive has nothing to do with his business," she said. "You can't stick five kids in a Toyota Corolla. . . . 99.9 percent of our customers come in here with families and bigger vehicles and can barely afford to repair them, never mind getting taxed on them."
Dick LeBonte, of Milford, is someone who sees it both ways. LeBonte is like many people whose job – he owns a construction company – requires a large vehicle with a lot of storage capacity. And while his other car isn't a microscopic Cooper or Smart Car, his Saturn station wagon provides him with a more fuel-efficient alternative for cruising around town.
"I think you still need both. Smaller cars don't have the power some people need," he said.
LeBonte uses his truck for his business.
For David Mayall, Smart Cars are his business. Mayall, of Methuen, Mass., bought his first Smart Car about a year ago and has since turned his purchase into a revenue source.
"You get so much attention just driving a Smart Car, I thought, 'We might as well put advertisements on them,' " he said.
Mayall started Smart Advertising Partners, a business that puts full body wrap ads on Smart Cars. Needless to say, he loves his car. He's also the president of Smart Car Club Massachusetts, which is a group that meets monthly for drives along the coast or other outings. Aside from the stylish look and full roll cage, Mayall said his favorite part about Smart Cars might just be the camaraderie between drivers.
"I cant explain why it happens, it's just we all really love our cars, and we like to get together and talk about our cars," he said. "I've had Corvettes, and I didn't have contact with other Corvette owners.
"Everybody just gets together and has a good time. It's just a real fun group."
Megan Frost, of Wilton, also has both big and small vehicles. She said the nature of her trip often dictates whether she'll take her SUV or her Corolla.
"If I go a long distance, I'll take (the Corolla)," she said. "In the winter, though, I usually take (the SUV). I don't want to drive in the snow without four-wheel drive, and I'm a nurse, so I can't not go to work if the weather's bad."
Others, like Bob Talbot, of Hudson, say they need a bigger car or truck because they don't feel safe driving one of the ultra-small cars like Coopers or Smart Cars.
"If you have everybody driving around in Smart Cars, how save are the highways going to be?" he said. "I wouldn't let one of my children drive one of those things."
Mayall said he feels just as safe driving his Smart Car as he did his former pickup truck.
"A lot of people say, 'What happens if you get hit by a dump truck?' " he said. "But you know what? If I get hit by a dump truck when I was driving my pickup truck, I'm not going to fare any better."
As for Baker, he said he's never felt unsafe in his Cooper when he, Betty and their poodle take road trips.
The poodle's name? You guessed it: Cooper.
Shawn Cyr can be reached at 594-6523 or scyr@nashuatelegraph.com