Car may have sparked house fire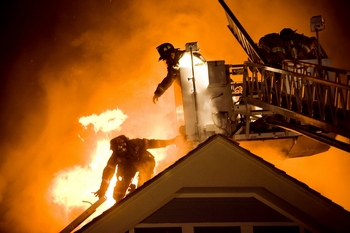 Homeowners believe a car is to blame for a three-alarm fire that destroyed their home Monday night.
The fire started inside the house garage and spread. The single-family home is in a gated community near the Sky Meadow Country Club in Nashua.
The couple who lived in the home at 8 Appletree Green escaped safely, according to Deputy Fire Chief Steven Galipeau.
Firefighters rescued a dog and two pet birds, he said.
According to phone book and tax records Eric and Antoinette Drouart own the home. Antoinette Drouart also owns Ikebana Flower at 95 W. Pearl St.
A firefighter suffered a minor shoulder injury and was treated and released from St. Joseph Hospital, Galipeau said.
The origin point and cause of the fire are unknown; it is under investigation, he said.