Capital hopeful, as many confess renewd pride at celebration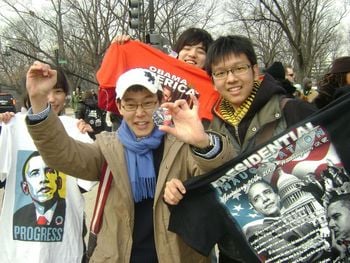 EDITOR'S NOTE: Telegraph Correspondent Eboyne Jackson landed a ticket to Barack Obama's inauguration Tuesday. Jackson, who is from Connecticut, arrived in Washington, D.C., on Sunday.
Today marked a day in American history that none of us will ever live to forget. Obama not only became the first black president of the United States, but also inspired more than 2 million people to brave the arctic chill for long hours to celebrate in his historic inauguration.
And drove some to climb to interesting heights to witness history.
During the inauguration, portable toilets served as a vantage point for watching. Other onlookers were content climbing a tree to get a better view.
When Obama addressed the crowd, everyone became entranced. Subtle shouts of "I love you, Obama!" were the only noise. Obama's inauguration not only refueled American pride, but it also ended pride for former President George Bush. Bush's presence at the inauguration celebration left many Obama supporters furious. People chanted, "Na an, hey, hey, hey GOODBYE!"
An on looker fumed, "Bush is a disgrace! Obama's time is NOW!"
Despite the furious weather, and overly congested streets, people remained joyful and surprisingly patient. Maxie Keyes, of Arizona, was amazed by the people's kindness. "Obama sure knows how to move a crowd," Keyes said. "I have never seen anything like this in all my life. I can't believe how patient every one is. This is such a pleasant experience."
Besides the incessantly frigid weather, the only majority complaint was finding the appropriate line to hand in inauguration tickets. Tickets were divided into groups: orange, yellow, blue, purple, gold and silver – the Mall view.
People seemed content if they had a ticket or not, however some were angered by the incessant mix-ups.
Organizers and security seemed to have a hard time leading crowds to the right designated ticket locations, which often times left people walking aimlessly around in circles for miles at a time.
Earlier on Tuesday 1
Obama has set a resurgence upon the nation. The streets of D.C. are filled with hope; as many people are awaiting the inauguration celebration and are confessing their renewed pride in America .
Barbara Jackson Poe, a resident from Austin, Texas, could not wait to make it into D.C. to feel the contagious "Obama effect."
"For the first time in my life I can say that I am proud to be an American." Poe laughed. "I have a ticket to the inauguration, and I wouldn't be anywhere else. Obama knows how to bring people together," she said.
Poe did not come all the way to D.C. to experience the inauguration alone, she came with her friend and travel guide, Debra Gail-Dorsey, a resident of the city. Dorsey, who has lived in D.C. all of her life revealed that she has never felt this much energy in her hometown.
"You can just see the energy, you can just feel the excitement in people's faces," Dorsey said. "I really believe that this is going to be a great change for our country as a whole; I truly believe that Obama was sent by God."
Inauguration electrifies capital
The air was electrified in Washington, D.C., on Monday. Despite the congestion, endless traffic and elongated crowds that seemed to overlap every street and corner, people seemed to be in sync – every one seemed nicer, cordial, and more respectful of one another.
People waved their patriotic "Obama" flags; others were decked out in their "Obama" apparel from head-to-toe. Whether you walked the steps of the U.S. Capital, or made your way to the Lincoln Memorial, a charged voltage could be felt – it felt as if people were all were united on Martin Luther King Day.
Washington in itself seemed to reflect a different world – a world where people valued their neighbor.
There couldn't have been a more fitting day to witness such display of nationalistic pride and unison, as Martin Luther King Jr. Day. King dreamed "that one day the nation would rise up, and live out the true meaning of its creed," that all men are created equal.
Obama would have made King proud.
This historical aspect was a cause of celebration for many, even if it meant traveling from the other sides of the world.
Just ask Jiyon, Hongsukcha, and Jaehyon Lee. This family traveled all the way from Korea, along with another relative, Michael Chinn, and they wouldn't have missed Obama's inauguration for the world. Despite not having a ticket, this family packed their bags, and made their ambitious trip to the United States for the first time to experience the "Obama effect."
"I had to come to this inauguration because Obama is so handsome," Jiyon Lee laughed. "Even though I don't have a ticket, I couldn't miss this for the world."
Hongsukcha Lee added, "I wanted to feel something strange and powerful. I had to see for myself, why America is so crazy for Obama. He not only changes the world in America, but he also changes other parts of the world."