Can N.H. cash in on the mixed martial arts phenomenon?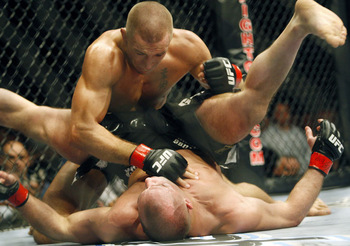 New Hampshire is the first New England state to open its arms to professional mixed martial arts, a big-money sport that could – in theory – mean big money for the state.
"This might be a fad, but look at the turnout," said Bobby Stephen, chairman of the state boxing and wrestling commission, surveying the teeming crowd at the weigh-in for "Cagefight MMA: The Beginning," a nine-bout professional mixed martial arts – otherwise known as MMA — night held in May at Bedford's Wayfarer Inn.
The sport, once derided by U.S. Sen. John McCain as "human cockfighting," is now a billion-dollar industry, legal in 32 states and fresh off its maiden prime-time network broadcast on CBS.
The fights in Bedford, which pitted combatants clad only in shorts and small gloves punching, kicking and grappling in an octagonal chain-link cage, cut a more modest profile. Some fighters earned just $100, but some said they'd do it for free.
"It something simple that people don't have to read into," said Salem fighter Dan Keefe, whose day job is as a Massachusetts prison guard. "It's just two people beating the crap out of each other. And people can sit there and watch."
Keefe won his bout by doctor's stoppage after bloodying his opponent's eye. Only one fight made it into the second round. The shortest ended in 24 seconds. MMA defenders say vigilant officiating is why the sport has experienced far fewer serious injuries than boxing, and just one U.S. fatality in a government-sanctioned bout.
Boxing and Wrestling Commissioner Bobby Stephen says concern for fighters drove him to seek legislation giving him oversight over MMA "shows" – there been 10 professional events held here and fewer than a dozen professional events held locally since 2005. But money also factored in Stephen's thinking.
"The state can always use every little dollar we can bring in," he said.
The new law will allow the state to collect 5 percent of the gate for every professional MMA bout. Hardly a killing at an event like "Cagefight MMA: The Beginning," which drew 800 fans who paid an average $70 per ticket, but significant for a commission that brings in a total of $30,000 during a good year.
Stephen stresses that the idea for the new law, which is the most significant change at the boxing and wrestling commission in years, was generated internally. But there are indications its timing wasn't accidental.
"I've talked to Bobby Stephen several different times and he's a great guy. We've been dealing with him for probably a year and a half," said Marc Ratner, a vice president with the Ultimate Fighting Championship, or UFC – the largest MMA company in the world.
The UFC, which has in the past eight years seen its value grow from $2 million to an estimated $1 billion, is on a campaign to get the sport legalized in all 50 states. Ratner, a former top boxing official for the state of Nevada, is leading that effort.
"Our slogan is we run to regulation and not away from it," he said.
Ratner's success speaks for itself. Two years ago, 22 states regulated MMA, by month's end that number could reach 35. In states like New York and Massachusetts, the UFC has mounted sophisticated and expensive lobbying campaigns.
The hard sell wasn't needed in New Hampshire. The bill cleared the house and senate on voice votes, and Gov. John Lynch was expected to sign it.
Commissioner Stephen says the new law will mean good things for MMA, and the state's bottom line.
"Hopefully, we can bring in many more dollars. Hopefully we can straighten out the budget deficit," he said.
But if Stephen and other MMA proponents are out to maximize state revenue, they may have overlooked a key fact: Big-time promoters like the UFC make as much of 75 percent of their money from television and pay-per view broadcasts. Laws elsewhere require some of that money — generally about 2 percent — to go back to the host states, a provision absent from New Hampshire's new law. Whether that overlooked detail cuts the state's take from MMA remains to be seen.
Not that the possibility was much on the minds of spectators at the Wayfarer.
"I think it's a great thing for the state, said Adam Foley, a 27-year-old landscaper from Manchester who took in the action from the standing section. "The only thing I wish for is more seats at ringside, so everybody can see the fight."
Josh Rogers is a reporter for New Hampshire Public Radio.