Caller's car takes out pane at eatery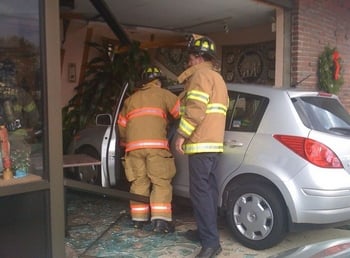 NASHUA – Two chicken potpies are still waiting on the counter at Thon Khao Thai restaurant. Their owner apparently drove her car through the Amherst Street restaurant's front window Tuesday afternoon on her way to pick them up.
Thon Khao owner, Kit Sahasak, of Salem, was in the restaurant's kitchen a little after 2 p.m., when a woman in her mid-40s apparently accelerated from her parking space, driving a Nissan Versa through the windows, into the waiting area, and damaging an interior wall.
The woman had ordered the two potpies for takeout, Sahasak said.
"I don't know what happened," Sahasak said. He thought it was an earthquake until he ran into the dining room and saw the car.
"It was parked in front of the restaurant. It kept revving up . . . and then jumped the curb," said Ross Boucher, who witnessed the accident.
Sahasak said it was lucky the accident didn't happen before 1 p.m., when the restaurant is open for lunch. There were no customers there at the time of the crash.
Repairmen spent Tuesday night boarding up the large windows. Inside, glass and wreckage was still scattered across the floor.
Sahasak guessed it would cost in excess of $10,000 to repair the damage, which included damage to the wall that separates the waiting area and kitchen and a deep fryer and refrigerator on the opposite side of the wall.
He hopes to reopen next week.
"I think it's going to be OK, but I don't know yet," he said.
Sahasak said he doesn't know if his insurance will cover the repairs.
Sahasak has owned Thon Khao Thai for almost six years.
His family owns two more restaurants, Yoong Thong Thai and Yoong Thong II, in Northborough and Chelmsford, Mass., he said.