Cabela's TIF structure is a New Hampshire first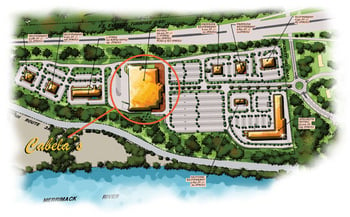 Hooksett voters last October approved an innovative Tax Increment Financing structure for a development off Interstate 93 Exit 11 anchored by a Cabela's sporting goods store.
Tax Increment Financing, or TIF, is a method of stimulating economic growth by using the increased taxes (the tax "increment") from new developments to finance the infrastructure required for those developments.
With a typical TIF, municipalities issue general obligation bonds that are repaid by the increased taxes assessed on the completed projects. Local governments have the authority to designate tax increment financing districts lasting 20 years or more to pay back these bonds.
In Hooksett, an alternate TIF structure was used for the first time in New Hampshire by which a developer privately financed $16 million of the total $18 million required for infrastructure improvements.
To repay the investment, the town will simply return the tax increment to the developer for 20 years, reducing the town's exposure from $18 million to $2 million. The remaining $2 million town obligation will be covered by a letter of credit from the developer.
Subject to the timing of these approvals, construction could start as early as this summer, with a potential opening in the fall of 2009. nhbr
Robert Duval is chief engineer for Bedford-based TFMoran, which is working with Hooksett and state officials on the approval process for the new Cabela's store. TFM will be responsible for civil engineering, survey, landscape architecture and permitting services associated with the project.