C-Span bus test-drives area's political interest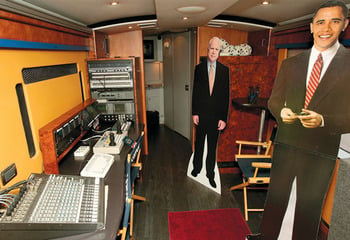 NASHUA – What has the coloring of the American flag, is 45-feet long, has traveled 460,000 miles across the 50 states and has hosted the likes of Bill Clinton and Rudy Giuliani?
If you're a fan of unfettered television coverage of politics and government, then you know it's the C-Span campaign bus.
The mobile television studio parked for a few hours Thursday morning outside Nashua Public Library and entertained passing bibliophiles. Kids and adults even got to take home free C-Span pens, rulers with images of the 43 U.S. presidents and a handy pocket guide to the Constitution.
Visitors sat on a comfy bench or the hot seat used by candidates in interviews to hear C-Span bus manager Anne Haller explain the vehicle's functions.
Including this year's Democratic and Republican primary season, the bus goes to where people vote, Haller said, following candidates for every exciting and mundane moment. Candidates often visit the bus, where they are interviewed by a Span host back in Washington.
The bus has as many as three cameras and several powerful studio lights surrounding the chair where a guest sits.
The back of the vehicle has a small but efficient video production panel, as well as a microwave and two large cardboard cutouts of Sens. John McCain, R-Ariz., and Barack Obama,D-Ill. They just happen to be running for president.
The bus is also videotaping voters across the country, gathering their thoughts on the presidential election and state of the nation, Haller said. The economy, education and energy are some of their top concerns, she said.
As Haller welcomed locals, one of the several television screens affixed to the walls of the bus showed live coverage of New Hampshire's own Sen. Judd Gregg giving a speech on the Senate floor.
The public-financed network, of course, offers unscripted and uninterrupted coverage of Congressional sessions and political events. Haller said she isn't surprised the uninitiated at first dismiss this sort of programming as wonkish or even nerdy.
"If you haven't given it a chance, give it a few minutes," she said. "You'll be hooked."