Businesses voice doubts over proposed budget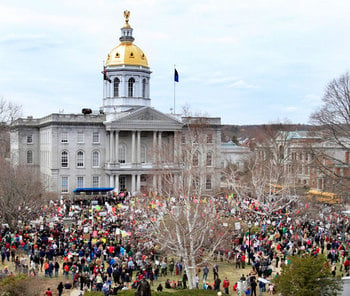 As March drew to a close, the New Hampshire House passed its version of the budget over shouts outside the State House of nearly every social service group in the state. Business groups weren't shouting with them, but they were grumbling inside.
It may be a case of getting too much of what you wished for."There always has to be a balance between fiscal responsibility and social responsibility," said Chris Williams, president of the Greater Nashua Chamber of Commerce. "The House may have tipped the balance too far at the expense of high-quality health care and social welfare."But this isn't just a matter of bleeding-heart capitalists. Businesses across a wide spectrum of industries also are unhappy about parts of the budget that affect their own self-interest. For instance:• Contractors oppose cutting the $30 motor vehicle registration surcharge because it will mean a $90 million cut in the Department of Transportation budget.• Auto dealers oppose the same fee cut, worried that the ensuing lack of revenue would delay issuance of titles and inspections. They are even more concerned about cuts in funding for career and technical centers that they say will leave them with fewer skilled workers to choose from.• Realtors are concerned that overall massive cuts in the state budget will result in cost-shifting to cities and towns, increasing property taxes and slowing home sales further.• The hospitality industry is worried that cutting the state's tourism marketing budget will result in less business for hotels and restaurants.• Hospitals are concerned that some $500 million in cuts that affect them will result in substantial cutbacks and layoffs.• The Business and Industry Association of New Hampshire says cuts in Medicaid will increase the cost of private health insurance premiums.• The Greater Manchester Chamber of Commerce is alarmed about cuts affecting the Department of Resources and Economic Development. It also wonders about the economic impact of further delays in construction of Interstate 93.All of this exasperates Rep. Kenneth Weyler, R-Kingston, chair of the House Finance Committee and chief architect of the House budget, which was approved March 31.Didn't the Democrats who previously controlled the Legislature underestimate the size of the budget gap with "no reference to reality," which resulted in mid-term corrections that are more destabilizing than any cuts?Doesn't the House budget get rid of the gambling tax, cut the cigarette tax – moves that Weyler says will actually increase state revenue? The House also tabled a number of other tax cuts to put in the "back of the budget" if the fiscal estimates get rosier, says Weyler.Not that business groups aren't grateful. And some, like the New Hampshire Grocers Association, just want their tax cut. A dime off the cigarette tax may not seem like much, "but it's substantial in this touchy economy," says John Dumais, president of the association. Dumais also is happy that the budget rolls back an increased licensing fee on scales, which cost some of the larger supermarkets as much as $14,000. The Retail Merchants Association of New Hampshire also focused on keeping a sales tax off the table, which in the current climate is as close to an impossibility as you can get.But to Weyler and others' dismay, many business groups seem to be focusing on the spending side of the equation – on cuts that could affect the economy in general, and their sector in particular.Dread over DREDPerhaps the most direct cuts to programs that affect business are at the Department of Resources and Economic Development. The House budget shaves about $4 million off the governor's proposed budget over two years. It would wipe out the New Hampshire Innovation Research Center and cut others, such as eliminate the director of the Division of Economic Development, halve the New Hampshire Office of International Commerce and cut the Division of Travel and Tourism Development's marketing program.Interim Economic Development Director Roy Duddy may be out of a job with the new budget, but he isn't the one who is squawking. The division would lose nine positions, which would cut it by a third, he says, but he isn't sure what that will mean in terms of business services.Funding for the International Commerce Division will be cut from about $1.2 million in the last biennium, to $1 million under the governor's budget and to $500,000 under the House budget."We feel the value of the DRED mission – specifically international trade – and are concerned about the cutbacks. Some of these things we hope will be preserved in the Senate version," says Mike Skelton, vice president of the Greater Manchester Chamber of Commerce, though he hastens to add that the chamber won't be officially weighing in on the budget until after the Senate passes its version.The budget of DRED's Division of Travel and Tourism would have actually gone up under the governor's proposed budget – keeping the bargain made during the last budget cycle to divert 3.1 percent of the proceeds of the rooms and meals tax for tourism promotion.Republicans point to a House vote to cut the rooms and meals tax from 9 to 8 percent in a bill that was quickly tabled – one of the several pleasing and teasing tax cuts that will probably never see the light of day. The New Hampshire Lodging and Restaurant Association's Henry Veilleux isn't holding his breath. The Senate "urged us to curb our enthusiasm" for such a tax cut, he says.But tax cut or not, the same Republicans cut about $2 million out of the governor's two-year travel budget. What is particularly "disappointing" to Veilleux is that the cut in direct spending for promotion and marketing, which would have gone slightly, to $4.5 million (with $500,000 to woo foreign tourists) for the biennium, is now going down to $2.9 million (with $200,000 for worldwide advertising.)This is simply counter-productive, Veilleux says.In Colorado, lawmakers cut that state's promotion budget, and lost so much in tax revenue from tourists, they hastily reinstated it, he says.Weyler contends that the money could be more wisely spent. "They are spending all this money printing color brochures. They need to spend money on their website and cut out publishing," he offers.Weyler also thinks that going after foreign tourists is a waste of time. The state will never have enough resources to "saturate the market" overseas and besides, "what brings them here is the dollar exchange rate."Veilleux says that the agencies the state uses "are on the cutting edge of marketing know-how. They use a variety of mediums, and it's a mistake to put all our eggs into one basket. The state's website is not going to bring a 9-1 return on your investment."There are other cuts to programs that directly serve business as well. The budget, for instance, includes a section that would end the state's participation in the 10-state Regional Greenhouse Gas Initiative, or RGGI.RGGI mainly helps homeowners weatherize and insulate homes and it provides money for loans to businesses for energy-efficient projects. (For example, Foss Manufacturing in Hampton received a $750,000 loan last year to eliminate the use of inefficient diesel generators and replace over 1,700 lighting fixtures.)Weyler, however, calls RGGI a "scam," partly because he is unconvinced about man-made global warming and partly because it "taxes" everybody through electricity bills to pay for "favorite pet projects. They probably would have gone to fluorescent lights anyway. It's a stipend they won't get this time, to give the businesses who are paying this tax a break."Weyler does acknowledge that since it is a regional system and New Hampshire is such a small state, consumers will be paying that tax anyway, but hopes that New Hampshire will lead the way in bringing the whole RGGI system down."Someone has to be a leader, and it won't mean too much of a loss to our state in the meantime," he says.
Medicaid and cost-shiftingThe House reduction of $247 million of hospital Medicaid funding over two years – the bulk of it affecting acute care hospitals in major cities – would translate (thanks to lost matching federal funds) into a $500 million loss.There were hiring freezes and layoffs when the hospitals lost a mere $70 million, says Leslie Melby, a lobbyist for the New Hampshire Hospital Association. While rural hospitals are spared, the major hospitals employ some 29,000 people, she says."Hospitals are the largest employers in their region," Melby says. "Imagine the impact of these enormous cuts rippling through our communities."But it is the effect on health insurance premiums that really worries the BIA."When health-care providers receive less than the cost of treating Medicaid patients, they must make up the cost of caring for these individuals another way," testified BIA president Jim Roche at a legislative hearing on the cuts. "This means charging more for commercially insured individuals.And business is the largest purchaser of commercial insurance. Cost-shifting is an added expense on business."It isn't that the House cut the budget, adds Williams of the Nashua chamber. "The severity of the cuts is deep enough to impact the ability of providers to provide quality care. The result is business ends up footing the bills."Weyler has little sympathy for larger hospitals that he says are using the money saved through their nonprofit status to "buy up the competition" (independent medical practices) and to "keep them in line" while "paying their CEO a half a million dollars, making money out of pain and suffering."He also contends that they won't be able to simply charge private insurers more. "Everybody is more mobile. Maybe their insurance company will have you go to Portland. You drive 60 miles and save $1,000."Transportation, education and property taxesLawmakers got an earful after they tacked on a $30 surcharge on the motor vehicle registration fee two years ago. But they're also getting an earful this year, when they proposed rolling it back. That's because – after taking into account federal matching grants – the rollback would result in a loss of $90 million to the highway fund.The state Department of Transportation put out a lengthy list of all the projects that would be delayed, ranging from the Conway bypass to Nashua's long-awaited Broad Street Parkway project. And then there is the state's biggest artery to Boston, so often clogged during rush hour."The widening of I-93 currently is under-funded by $230 million. Given the direction to cut back on capital construction, consideration needs to be given to using the I-93 funding for addressing other areas of the state highway system," the DOT reported.This worries Skelton of the Manchester Chamber. "It's not just a matter of public safety. It's a matter of access that has many economic impacts."
Weyler defends the cutbacks, arguing that after a year or so of stimulus with federal recovery funds, the state could get away with a bit of a rest in road construction.But Gary Abbott, president of the Associated General Contractors of New Hampshire argues that "we've been behind since 1994, and we didn't get caught up, we still have a lot of work to do."Perhaps Abbott should have added, "We wish we did have a lot of work to do."With a continued slowdown in the construction sector, a still-stagnant housing market, a moratorium on new school building projects, and a possible halt on hospital construction, any cutbacks in highway construction will cause economic pain."If DOT projects are delayed even more, this is clearly going to be a tough year for construction," Abbott said.Weyler says he had hoped to throw some work to private contractors by privatizing state jobs, especially when it comes to snow plowing. But that measure didn't get off the ground.Surprisingly, the New Hampshire Auto Dealers Association also opposes rolling back the motor vehicle fee."This would have an impact on DMV issuing titles in a timely fashion, as well as with the dealership inspection stations," says NHADA president Peter McNamara.But it's cuts in education, more than transportation, that really concerns McNamara. The House budget would eliminate about $2 million over two years in the regional career and technical centers, which could threaten some $6 million in federal grants. These centers aren't just good for the students who receive training. The centers work closely with auto dealerships around the state, which provide equipment that those potential employees can be trained on."Without this program, we are going to lose a great training tool that keeps kids in the state," he says.The schools feed kids into the community college system, which has special programs that work closely with General Motors, Toyota and Honda. "It took years to get these programs in the state and if we don't support them, they go away," says McNamara.And in a "double whammy," the House budget also would cut another $8 million from the community college system's budget, to $62 million.About the technical center cuts, Weyler says schools are already getting $1.1 billion a year in aid – through the statewide property tax – and if the programs are needed, "they can make adjustments."As for the community colleges, Weyler suggests they should hit up their alumni and rely more on adjunct faculty so they can pay teachers less. "The professors turned down a 6 percent raise. If that's the way they are running their college, what the heck are we giving them money for?" Weyler says.Finally, there is the even more nebulous issue of downshifting. The governor's budget cuts revenue sharing of the rooms and meals tax to the municipalities as well as school building aid. The House budget restores that, but cuts services that towns would have to pick up.The New Hampshire Association of Realtors is concerned about both proposals."The State House needs to resist the temptation to downshift costs to municipalities and, therefore, property taxes. Housing accounts for 16 percent of the New Hampshire economy, and any efforts to downshift costs will impede the state's economic growth, make buying and selling a home more difficult, and could result in a significant loss in a home's equity," says NHAR President Tom Riley."You'd think Realtors would be grateful that we put $150 million in aid to local towns that the governor had taken out," Weyler responds. "We didn't downshift."He adds that the idea that the poor and vulnerable would end up on the town's doorstep "is an exaggeration. If you need treatment, the town is not going to pay all those bills. You just stop taking in the door everybody who is a little worried."Bob Sanders can be reached at bsanders@nhbr.com.