Businesses hurt by ice storm to get aid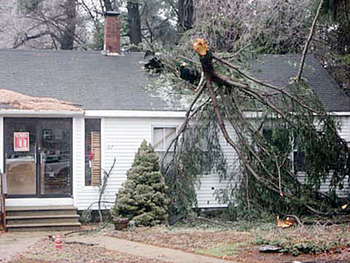 During the ice storm on Dec. 11, a large tree crashed through the roof of Kim Meikle's dog-grooming business in Hudson.
The business took quite a hit, Meikle said. The holidays are a busy time of year for dog groomers, as Fido and Fifi must be looking their best.
So there it was, the busiest and most profitable month of the year, and Dunk N' Dogs had to close for a week.
"That month will always bring us ahead. Even in a slow economy we count on Christmas," Meikle said. "Any other time it wouldn't have impacted us as hard as it did."
"We took a huge hit . . . and we're still not recovered," she added. "The storm really knocked us for a loop; it really did."
So, Meikle was excited to hear Friday that the Small Business Administration has approved Governor John Lynch's request for emergency assistance for business and non-profits that were affected by the storm.
Lynch requested the assistance Feb. 20, and the SBA announced Friday that it had approved a disaster declaration for the storm covering Belknap, Carroll, Cheshire, Coos, Grafton, Hillsborough, Merrimack, Rockingham, Strafford and Sullivan counties in New Hampshire; Essex, Middlesex and Worcester counties in Massachusetts; York County in Maine and Caledonia, Essex, Orange and Windsor counties in Vermont.
Eligible small businesses and most private, non-profit organizations of all sizes can qualify for loans up to $2 million, and the total amount of funds available is unlimited, SBA spokesman Michael Lampton said.
"The assistance will be only to make repairs or replenish lost revenues due to this disaster," Lampton said. "It has to be directly attributable to the ice storm."
The SBA will fund as many loans as qualify, he said.
"It's unlimited; it's based on need," Lampton said.
The SBA determines eligibility and the loan terms and amounts based on the size and type of the business, and its financial condition, but in general, Lampton said, business can get a 30-year loan at 4 percent interest.
"I would dare say you couldn't go out and get a commercial loan at 4 percent in today's market," he said.
Applications and program information are available by calling the SBA's Customer Service Center at 1-800-659-2955 (1-800-877-8339 for the hearing impaired), Monday through Friday from 8 a.m. to 9 p.m., Saturday, from 9 a.m. to 9 p.m., or by sending an e-mail to disastercustomerservice@sba.gov.
Business loan applications can also be downloaded from the SBA Web site at www.sba.gov/services/disasterassistance.
The deadline to apply for the loans is return economic injury applications is December 5, 2009.