Business owner's parking spot driving some crazy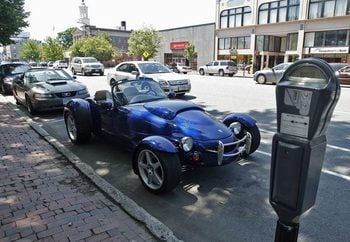 NASHUA – "Meter feeding" is sure to upset downtown business owners, especially when it means a single car dominates a sought-after Main Street parking spot for hours at a time.
It is particularly vexing if the meter-feeder is a fellow business owner who prevents other customers from conveniently parking and spending money downtown.
Alec's Shoes owner John Koutsos said too many people dominate on-street parking spots for longer than the allotted two-hour limit instead of finding longer-term spots farther from Main Street. Most frustrating is when Bob Cagan, the owner of Myoptic, parks in front of his own business for hours at a time, Koutsos said.
"Most of the merchants on the street are kind of offended by this because it's taking up customer spaces," Koutsos said. "I just don't think it's fair if merchants are the violators. That just doesn't sit well with everyone."
Koutsos said he gets along well with Cagan and has more than once asked Cagan to park elsewhere to no effect.
Cagan, who sometimes drives his blue Panoz sports car, a rare, roadster-style car made by an exclusive Georgia based manufacturer, Panoz Auto Development Company, thinks the whole argument is ridiculous.
"I don't think there's a problem looking for parking spaces," Cagan said. "Parking is not an issue. Maybe once in a while. Nine times out of 10 it's not an issue."
Koutsos said police will ticket cars parked with expired meters, but enforcement is lacking when it comes to the two-hour limit meters lining Main Street and several side streets.
One of the city's parking enforcement officers, Tom Byrne, said Cagan has been warned about violating the two-hour limit, but he is hardly the only one who does so.
He said the city enforces the two-hour limit as much as any other parking violation, but that he does not get many complaints about that particular violation.
Nashua business owners are not the only ones talking about parking prohibitions.
Sue Butler, executive director of Nashua's Great American Downtown, said a number of Main Street business owners are frustrated by the lack of parking space turnover.
"The whole point of metered parking is to keep traffic moving," she said. "It is critically important that we move the cars that don't need to be on Main Street off of Main Street."
Butler said Great American Downtown, along with similar organizations across the country, struggle to communicate to shoppers the depth of parking options available.
"There's definitely a perception issue," she said. "People expect when they come downtown that they're going to park right in front of the building they're going to. Unfortunately, I'm not really sure there's a fix to that issue."
Milford officials are also discussing parking issues and considering instituting two-hour limits on spaces near the Oval.
Some business owners there have complained that employees and apartment dwellers are taking up spots meant for customers. Residents and employees counter that there are few other options within a reasonable distance to the town center.
Cagan said he had decided to stop parking his cars on Main Street but said since some of his neighbors have made such a fuss he might now reconsider.
Koutsos' decision to close his "anchor store" on Mondays does more to dampen downtown business than Cagan's car taking up one parking space, he said.
"If he would open on Mondays, most of downtown would open and it would be a much more successful downtown," Cagan said.
He said a busy and bustling downtown will, if anything, draw more shoppers and that his unusual car does generate business for him when car enthusiasts stop in to ask about it.
Patisserie Bleu Cafe owner Debbie Soby shared Koutsos' frustration.
"If people continue to feed (meters) all day, it's not fair to other people coming downtown," she said. "It's just not fair to have one spot locked up all day."
Teri Linton, a manager at Villa Banca a few doors away from Myoptic, said Cagan's parking habits are a non-issue. She is more interested in making sure her own employees do not take up customer spaces.
"It's not like we own the whole block," she said.
A few of Koutsos' employees said customers often remark on the difficulties they have finding a parking space.
"It's tough to find parking. That's the biggest complaint people have about coming downtown," said Alec's employee Jodi Lefebvre. She said it was "a little sad and a little selfish" that a business owner would contribute to the problem.
Koutsos said he spends about $7,000 a year to pay for his employees' parking passes to the garage on Elm Street. He said it is more frustrating to businesses in the area since many have been working to improve the downtown, including efforts to implement a Business Improvement District that would create a special tax district to pay for capital improvements.
"You put all this effort into it and you want it to be productive," Koutsos said. "When a business owner parks all day in front of his business, it's kind of counter-productive to the efforts."