Business leaders push for passage of climate bill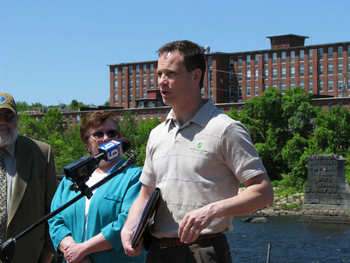 It's essential that climate change be addressed at the federal level because of its adverse impacts on New Hampshire's economy, and even its way of life, business leaders from around the state said at a May 28 news conference in Manchester.
At the event, held at Arms Park in Manchester, seven businesspeople from such diverse industries as taxidermy and a North Country chamber of commerce gathered to urge New Hampshire Sens. Judd Gregg and John E. Sununu to support the Climate Change Act of 2008, which was to be debated in the Senate at the beginning of June.
Citing statistics from the U.S. Energy Information Administration and the Bureau of Economic Analysis, venture investor and former state Republican Party platform chair Jim Rubens said New Hampshire spends 9.5 percent of its gross state product on coal, natural gas and petroleum products.
"This is double the rate in the 1990s and is $5.5 billion this year alone," said Rubens.
He said a "strong climate bill is very bullish for our state's economy," with substantial incentives for investment in efficiency and clean energy research and production and "will spur the creation of thousands of new high-paying jobs and reduce consumer energy costs almost across the board."
According to Rubens, employing some 250 existing clean energy techniques and technologies would create $2.8 billion in New Hampshire industry by 2030.
He also said that a well-crafted climate bill would produce both cost savings in energy expenditures and would help to mitigate further climate damage effects.
Jon Strimling's company is just one such firm that is successfully using renewable energy technology that is available today.
PelletSales.com in Goffstown, an affiliate of American Biomass — also located in Goffstown — is a retailer of pellet fuel. It recently closed on $3 million in funding with a goal of becoming the first national distributor of wood pellets for heating.
"We're an example of what can happen," said Strimling. "What [the biomass industry] is doing for the state is creating opportunities for jobs, for growth and for people to not only be green, but to save money."
Strimling pointed out that Austria and Sweden, and not the United States, are the leading countries of green technology development.
"The U.S. is a leading perpetrator of the problem, and we're not leading the change in the world that needs to come," he said.
Strimling said he supports any measure that puts firm limits on greenhouse gas emissions as a state and a country.
While it's a growing sentiment that going green can help save some green in the form of lower costs through greater efficiencies, business owners often feel that green technology can be cost-prohibitive.
Kathy Beliveau of the energy management firm LighTec, said that's just not so.
The Merrimack company designs energy efficient lighting systems for businesses. She said than many of LighTec's clients have "met or exceeded their goals and sustained a profit."
She said the efficient lighting systems her company designs and installs has removed the equivalent of 4,400 tons CO2 from air, saved energy to light 3,900 homes, taken 770 cars off the road, and planted 1,200 acres of trees.
The speakers all stressed concern about the negative impacts climate change will have on the state's economy and environment.
Also taking part in the press conference was Susan Proulx, owner of Wildlife Taxidermy and Sports Center in Manchester, who said she's already seeing the effects of changing climate conditions.
"Climate change is very real for business owners like myself who depend on our abundant fish and wildlife resources and a climate that sustains them."
She said erratic weather patterns in recent years decreased the ice cover, sending ice fishers to seek other pastimes.
"Climate change and erratic weather has meant erratic business for me and other retailers," she said
Jen Goodsen of the Easter Slope Inn, speaking on behalf of the Mt. Washington Valley Chamber of Commerce in Conway – which has 750 members – voiced similar concerns.
"All these businesses rely on the natural beauty and resources of the Mt. Washington Valley," said Goodsen. "It has become increasingly apparent to myself and our members that global warming threatens the very foundation of our economy and way of life" in the North Country.
"Taken together, these changes threaten our winter recreation," said Goodsen. "If left unattended, global warming will undoubtedly unravel the fabric of our economy and way of life the North Country."
Cindy Kibbe can be reached at ckibbe@nhbr.com.