Bus tour of foreclosed homes a first for N.H.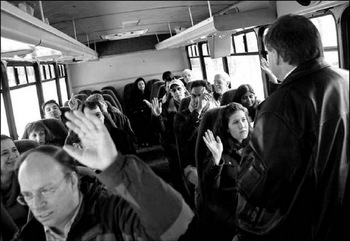 The wheels on the big white bus slid to a stop in front of a yellow cape-style home on Pasadena Avenue.
Out walked about 20 people in casual weekend wear, trudging in single file up the snowy wooden steps into an empty home with blown-out pipes and no electricity.
"By the way, folks, we're calling it like it is on these properties," real-estate broker Peter Bohush said. "We're not trying to hide or sugarcoat anything."
Next stop: a bungalow on Dickerman Street that still showed signs of life. Doll clothes, a crib and a copy of "Where the Wild Things Are" were scattered in the sunroom. Clothes hung in a bedroom closet.
The 1890s farmhouse on West Hollis Street left a few people speechless. Some of the passengers took one look at the outside and hesitated to leave the bus.
This isn't a scene from Detroit or Stockton, Calif., where nearly 5 percent of all households are in some stage of foreclosure. In cities like that, it has long made sense for banks to get as many eyes as possible on their growing inventory of properties.
This is Nashua, where foreclosures are markedly fewer but growing quickly enough to attract the Foreclosure Express – a whirlwind Saturday tour of about 10 bank-owned properties. The March 29 tour in Nashua was the first of its kind in New Hampshire.
The tour was put on by Digital Federal Credit Union's real-estate arm, DCU Realty. The Massachusetts-based credit union, with a branch in Nashua, brought the bus north of the border after the idea caught on elsewhere.
"Banks are starting to get aggressive about selling," said Bohush, a real-estate agent and broker for DCU. "They don't like to see foreclosed properties on the balance sheet."
The next tour in Nashua is scheduled for April 26.
The concept of a foreclosure bus tour has grown in popularity in the last year or two, but it's tough to pinpoint exactly when and where they began. Some news stories point to California. But the tours are prevalent in places such as Florida, Nevada and Michigan, where foreclosure numbers are among the highest in the nation.
Middle of the pack
The tour bus trend has emerged from the national mortgage crisis that has caused a record number of Americans to lose their homes to foreclosure. Rising interest on adjustable-rate mortgages, combined with falling home prices, are much to blame.
New Hampshire is close to the middle of the pack of states in terms of percentage of homes in foreclosure and percentage of mortgages that are past due or in default. But foreclosures in Hillsborough County hit record numbers last year, and the numbers thus far in 2008 are more than double what they were at this time in 2007.
The March 29 tour began at 9 a.m. Between stops, the tour was sort of a rolling crash course on foreclosure purchase and the real-estate market in general.
From the beginning, potential buyers were warned that foreclosed homes usually aren't in the best of shape. Some folks are so angry about being foreclosed upon, they trash the homes before leaving.
Attorney Andrew Sullivan of Bedford, who rode along to explain some of the legal issues involved in buying a foreclosed home, recalled the worst he'd seen – a furnace ripped through the back of a home and left in the front yard.
Sullivan said the owners tied one end of a chain to the furnace, ran the chain through the basement's bulkhead to the outside of a house and tied the other end to a pickup truck. Then they drove the truck, he said.
But some people do leave gracefully. According to Bohush, there are families who clean the house so it's spotless before leaving and then ask if everything's OK. Those are the ones for whom you feel badly, he said.
Most of the homes on the tour were starter types with two or three bedrooms. Most had no heat or electricity; some smelled a little musty. A few had upgrades, such as maple cabinets, but nearly all had outdated fixtures, appliances and paint.
Prices started at $95,000 for a condo with severe water damage, averaged in the mid to upper $100s or low to mid $200s for single-family homes, and capped out at $419,900 for the standout – a brand new home in Hudson that went into foreclosure while the builder still owned it. – ASHLEY SMITH/NASHUA TELEGRAPH
---
How to buy a foreclosed home
With a record doubling of foreclosures last year in Hillsborough County and elsewhere in New Hampshire and the fallout of the mortgage mess expected to peak sometime this spring, local inventory of bank-owned properties is growing.
For the right buyer, experts say, these (more often than not) fixer-uppers can be a gem. If the price is right, there's potential to refurbish the property for a substantial profit down the line – or just to make it a great place to live.
But the process of buying a bank-owned home is neither quick nor easy. And for all the recent talk of foreclosures, there has been little chatter about how to go about buying one. So how do you do it?
• Go to the auction: This is the first of two options and is one that real estate agents don't recommend unless you've really done your homework. Keep in mind that these usually take place right outside the home, possibly with the family who's losing the place peering out the windows.
Auction dates and times are published in newspapers and often on Web sites of local auctioneers. According to Nashua's Masiello Group real estate broker Rod Clermont, you can find these Web sites by doing an Internet search of the auctioneers' names that appear in the paper.
To buy a home onsite, you must present a mortgage pre-approval and a cashier's check for the amount publicized in the paper – it varies depending on the property, but is usually no less than several thousand dollars.
According to Richard Jean, owner and broker of Central Realty in Nashua, about 90 percent of the time the bank ends up buying the property back at auction because it wants more money than the highest bid.
However, if you can find a listing for an "absolute auction," that means the bank has no plans to buy the property, Jean said. In that case, the house will go to the highest bidder no matter what, he said.
• Find a broker: Outside of an auction setting, don't expect banks to deal with you directly. Jean said you could try, but odds are extremely high a bank won't cooperate if you call it to ask about foreclosed properties.
According to Clermont, most real estate agents will show bank-owned properties, but few actually list them. He estimates that only 10 percent to 15 percent of brokers have relationships with banks.
However, brokers who do list foreclosed homes often advertise that fact.
Once you find a broker, Jean said, it's possible to sign up for e-mail alerts when a bank-owned property goes on the market. They can be set up by price range, town, county and more, he said.
If you want to do the searching on your own, the government's Federal Housing Administration (fha.gov) and Veterans Administration (va.gov) Web sites list foreclosures, Clermont said.
He cautioned against the Web sites that charge for access to foreclosure listings, saying the information isn't always up to date and reliable. – AS